Bibby Offshore Expands Latest Division Further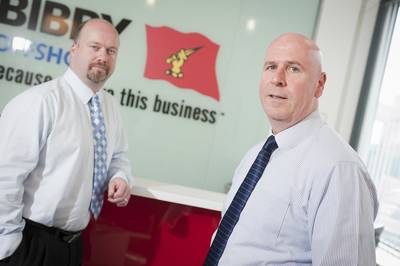 Bibby Remote Intervention Limited (BRIL) has announced the recent appointments of Lloyd Duncan as Senior Inspection Repair and Maintenance (IRM) Consultant and Andy Inglis to the role of Inspection Manager.


BRIL is the latest division of Aberdeen-based subsea installation contractor Bibby Offshore and was initially established with the intention of internalising Bibby's existing Remotely Operated Vehicle (ROV) needs and to bring the service provision in-house. An initial investment of close to £9million has been made in ROV systems to support Bibby Offshore's fleet of Diving Support Vessels (DSVs).


Increased market demand for ROV services, particularly in the IRM sector, has led to further expansion of the ROV service provision and the creation of the inspection department. A total of 46 jobs have been created on and offshore already this year within BRIL.


Both Duncan and r Inglis will be tasked with running the BRIL inspection department. Mr Duncan will have commercial responsibility for the acquisition and delivery of inspection projects, whilst Mr Inglis' duties will include overseeing the technical delivery of all inspection projects.


Duncan brings over 20 years of management experience within the oil and gas sect or to BRIL. He joins the company from MCS where he held the position of COO, while he was also responsible for operational aspects of Deeptech. Prior to this, he worked at Subsea 7 for 13 years where he held a number of positions both in the UK and overseas. In his last role at Subsea 7, as Global Inspection and Integrity Manager, he was personally responsible for meeting global requirements and overseeing delivery of inspection, integrity management and data management services to the division.


Mr Inglis has over 10 years' experience in the oil and gas industry with expert knowledge of subsea inspection with both ROVs and divers. He joins BRIL from Subsea 7 where he worked for eight years, most recently as Inspection Interface Manager. Previously, Mr Inglis held the role of Senior Onshore Inspection Coordinator for four years where he was accountable for all aspects of inspection support reporting and quality control for major oil and gas companies both within the North Sea and globally.


Mike Arnold, Managing Director of Bibby Remote Intervention Limited, said: "The division has experienced rapid growth over the last year and with the successful completion of the first phase of BRIL, we are now moving forward with further expansion of our service delivery. I am delighted that we have secured the services of two well experienced industry professionals to add to our existing management team.


"I am confident that with the addition of Lloyd and Andy, the team will continue to deliver an excellent level of service in this niche market. Lloyd's extensive knowledge of the industry and strong leadership skills will support the acquisition and delivery of the BRIL inspection projects and encourage an efficient operation. Andy's experience in the subsea field is extensive and varied and he has a proven track record of managing and overseeing the day to day running of an inspection department, which makes him well qualified for the position."


Lloyd said: "Bibby Offshore has an excellent reputation as a dynamic and constantly evolving company so it is an exciting move for me. I have a strong commitment to customer focus, service quality and health and safety, which I will bring to my new role as Senior IRM Consultant. My proven ability to manage projects from conception to completion and close out of contractual issues to customer satisfaction will contribute to the company's drive to deliver excellent levels of service."


Andy said: "I am looking forward to joining a company with such a high degree of progression and development as Bibby Offshore. I plan to incorporate my experience and industry knowledge in the department to help create a highly competent and skilled team, both onshore and offshore, in order to deliver an excellent service to internal and external clients."


Bibby Offshore, part of the Bibby Line Group, has grown from 10 employees in 2003 to now employing over 750 people worldwide, with offices in Aberdeen, Liverpool, Singapore and Trinidad. The company has an international fleet of five subsea support vessels including the most modern fleet of DSVs in the North Sea.