World's Largest Offshore Wind Turbine Rotor on Test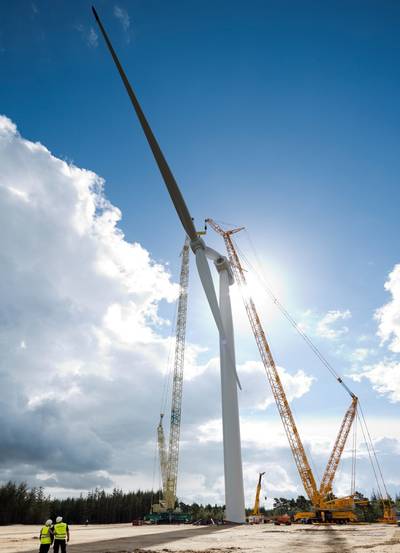 The Siemens Energy 6-megawatt installation on trial at Østerild, Denmark, can produce electricity for 6,000 households.

Siemens Energy has begun field testing of its new 154 m rotor for the 6-megawatt (MW) offshore wind turbine in Østerild, Denmark. The SWT-6.0-154 turbine is equipped with the world's longest rotor blades – each blade is 75 meters in length. With a record rotor diameter of 154 meters, each SWT-6.0-154 turbine can produce 25 million kilowatt hours of clean electricity in offshore locations, enough to supply 6,000 households.

As early as May 2011, Siemens installed the first prototype of its new 6-MW turbine using a 120 m rotor. It has now been operating successfully for well over a year. The serial version of the 6-MW turbine will use the 154 m rotor and is expected to become the new benchmark in the offshore wind industry.

"The start of field testing of the 154 m rotor for the 6-MW is an exciting step in the development of competitive technologies for the large offshore wind farms of the future. We incorporated our technological expertise gained over more than three decades into the development of both the gearless turbine and its 75-meter rotor blade", says Henrik Stiesdal, CTO of the Wind Power Division within the Siemens Energy Sector.

The gearless drive technology permits a compact design:.Using Siemens' Direct Drive technology the SWT-6.0 is the lightest turbine in its class, having a nacelle weight of only 200 tons. This combination of robust design and low weight reduces offshore infrastructure, installation and maintenance costs. "At the same time, the turbine delivers an increased energy yield and offers greater profitability over its life cycle," Stiesdal adds.

Siemens will soon install two more SWT-6.0 prototypes in the British offshore wind power plant, Gunfleet Sands. This will be the first time that the Siemens 6 MW wind turbine will be tested offshore. Both machines for this project will be equipped with the 120 m rotor.