Dana Gas Inks Adyard Offshore Platform Contract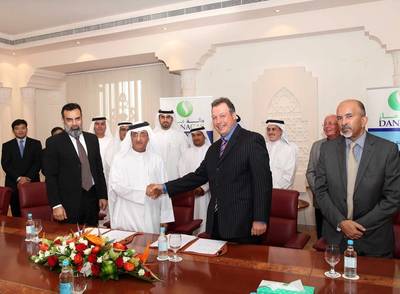 Middle East's leading regional private sector natural gas company, Dan Gas, has awarded Adyard Abu Dhabi a subsidiary of Interserve plc, a $17 million contract for the fabrication of an offshore platform for the Zora Field Development Project which spans the territorial waters of Sharjah and Ajman, UAE.
The platform is an important element in the overall scope of the Zora project, the aim of which is to extract the reserves from the Zora field through an offshore facility and to transport the reserves via a 35km subsea pipeline to an onshore gas processing facility in Sharjah onshore area.
Fabrication of the platform will be carried out by Adyard and will include the manufacture and erection of the structure and the different deck levels. Adyard will also prepare the finished platform for safe and secure loading onto a transportation vessel. The platform will eventually be installed in a water depth of 24 meters, along with associated facilities.

The contract with Adyard was signed at the Sharjah Petroleum Council. In the presence of Sheikh Mohamed Bin Ahmed Al Qasimi, Director General Chairman's Office of Sharjah Petroleum Council, Waleed Deemas, Secretary General of the Sharjah Petroleum Council, Marwan Al Ali, Representative of Ajman Government and Rashid AlJarwan, Executive Director of Dana Gas and other Government representatives and company seniors from both Dana Gas and Adyard.

Dr. Patrick Allman-Ward, Chief Executive Officer of Dana Gas said: "This contract is the first strategically significant development towards bringing the Zora gas field on-stream. The capital investment of $160 million in the project during the project execution phase will contribute to the local and regional economy. During the operational phase, we will utilize locally sourced gas to contribute in adding value and development to the economy of the UAE, by supplying Zora Field gas that will generate a significant portion of the domestic fuel supply."
He added, "The appointment of Adyard Abu Dhabi marks the start of a commitment programme with awards for contracts for other aspects of the work to follow in due course. The company expects to start delivering 40 million cubic feet per day of gas in the first half of 2015."