Oldendorff Carriers' Longtime CEO Peter Twiss Steps Down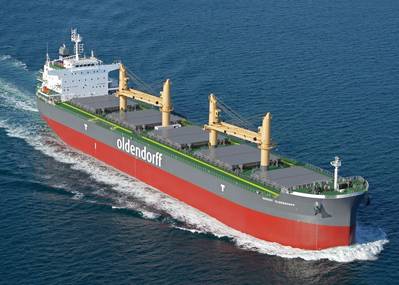 Peter Twiss, the longtime president and CEO at German shipowner Oldendorff Carriers, has decided to step down after nearly 28 years with the company. Twiss is succeeded by longtime employee Patrick Hutchins.
Twiss' career started at Concept Carriers in 1995, a start-up company which was established by owner Henning Oldendorff as an operating arm, with the aim of moving closer to the cargo clients. Twiss quickly rose through the ranks, and after running Concept Carriers in the late 90s and being co-CEO of Oldendorff Carriers, he became its sole CEO in January 2003.
The long-tenured CEO is leaving Oldendorff Carriers on a high note. Last year, the company achieved its best result in its 102-year history and increased its shore-side staff by around 10%.
"Timing is everything in shipping," Twiss said. "Another main reason for leaving now is that I have trained and mentored many Oldendorff employees. They have made me very proud, and I want them to have the same opportunities that I had when I was younger. By making room at the top, it gives employees a chance to move up."
The company's chairman Henning Oldendorff said, "Thanks to Peter's leadership and constant coaching, the company is in an excellent shape and running on all cylinders. Peter chose this moment, making sure he is handing over a robust company.
"For more than 25 years, Peter and I enjoyed a close working relationship, built on trust and friendship, for which I will be forever grateful. Together with our people and our global board, we have enjoyed countless adventures and weathered many storms. Peter will be around to support and assist the new CEO for as long as is required."
Hutchins joined the company in October 1999 and was a founding board member in 2007. He has overseen the commercial teams at Oldendorff Carriers for all trades and all different vessel sizes, most recently heading the Capesize segment.
"This handover is a celebration for the wonderful things Peter Twiss has achieved in his tenure as CEO at Oldendorff Carriers. He leaves the company in the best of shape, and I sincerely believe we can build on his achievements to take the company forward," Hutchins said.