Warship in Place to Guard London Olympics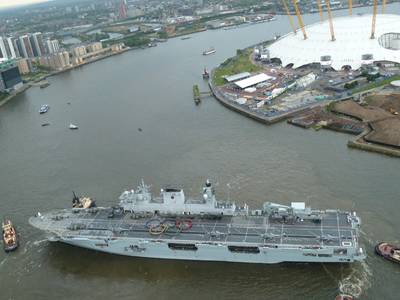 'HMS Ocean' is returning to London for a key role supporting the police in providing security to the Olympic Games
The warship will be berthed at Greenwich until after the Paralympics, and will act as a helicopter landing platform and logistics hub in support of maritime and air security operations.
HMS Ocean will also accommodate 400 military personnel who will be part of the venue security force for nearby Greenwich Park.
An amphibious assault ship, HMS Ocean is designed to deliver Royal Marines commandos to the centre of the action by helicopter or by landing craft - there are six helicopter operating spots on the flight deck, and the hangar can hold many more aircraft.
The ship also has an assault squadron embarked, 9 Assault Squadron Royal Marines, and carries four landing craft capable of landing troops or a Land Rover-sized vehicle ashore.
HMS Ocean played a key role in support of the UN Security Council Resolution off Libya last year, acting as the base for the Army's Apache attack helicopters and the Royal Navy's Sea King surveillance helicopters.