OOCL Adds Third 24,188 TEU Containership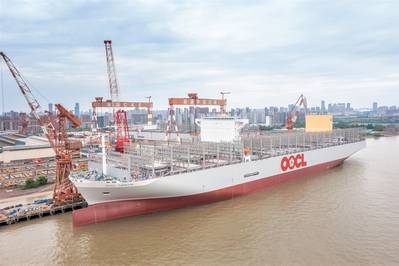 Hong Kong-based Orient Overseas Container Line Ltd. (OOCL) announced it has taken delivery of another 24,188 TEU mega ship.
The OOCL Turkiye, recently named during a ceremony at Nantong COSCO KHI Ship Engineering Co., Ltd. (NACKS) shipyard, is the third 24,188TEU vessel to be received by OOCL in a series of12.
Being a part of OOCL's strategic plan for further growth in Asia -Europe trade, OOCL Turkiye will join her sister vessels OOCL Spain and OOCL Piraeus in serving OOCL's Asia-Europe LL3 service loop. Port rotation of LL3 is Shanghai / Xiamen / Nansha / Hong Kong / Yantian / Cai Mep / Singapore / Piraeus / Hamburg / Rotterdam / Zeebrugge / Valencia / Piraeus / Abu Dhabi / Singapore / Shanghai.