OOCL Takes Delivery of a 24,188 TEU Ultra-large Containership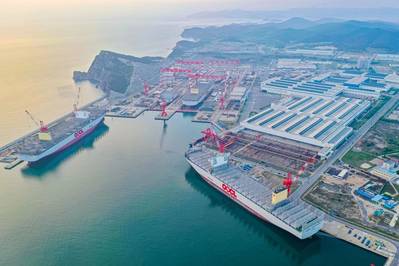 Hong Kong-based shipping line OOCL announced it has taken delivery of another ultra-large containership
The 24,188 TEU vessel OOCL Piraeus is the first in the series of six container vessels to be delivered by Dalian Cosco KHI Ship Engineering Co., Ltd. (DACKS).
OOCL placed an order for a total of twelve 24,188 TEU container vessels in 2020. Of this set of 12, OOCL Piraeus is the second vessel to be delivered following the delivery of the OOCL Spain earlier in the year.
"Vessels in this series are equipped with advanced smart systems and green designs to reduce carbon emissions, improve energy efficiency, and provide long-term navigational safety," OOCL said.
A ceremony was at held the DACKS shipyard on May 30, 2023 to officially name the vessel and to welcome this new member of OOCL's fleet.
OOCL Piraeus will join OOCL's Asia-Europe service LL3 from June. Her port rotation is: Shanghai / Xiamen / Nansha / Hong Kong / Yantian / Cai Mep / Singapore / Piraeus / Hamburg / Rotterdam / Zeebrugge / Valencia / Piraeus / Abu Dhabi / Singapore / Shanghai in a 84-day round trip.