CDLSE Reaches Full Operational Capability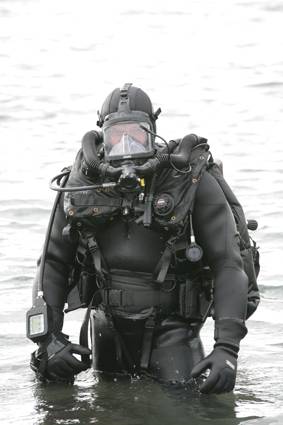 On the 23 July 2011 CDLSE (Clearance Divers Life Support Equipment) entered into Full Operational Capability (FOC) with the UK Royal Navy.
Designed and built by Divex – world leaders in diving equipment technology – CDLSE was introduced into service in 2010 after performing well in extensive trials. CDLSE has been used in various exercises in global locations proving its capability and as a result is now in use with clearance diving units and minehunters deployed operationally around the world.
The Divex Stealth CDLSE is the most advanced underwater Rebreather life support system in the world today and is capable of being used in multi-mission diving profiles. It has been developed utilising modern materials and new technologies. Its extremely low WoB (Work of Breathing) surpasses international standards and crucially to mine clearance operations, surpasses all NATO non-magnetic and low acoustic standards.
Dave Cunningham, Diving and Life Support Capability Manager with the UK MoD commented: "After a lengthy process of evaluation and testing, CDLSE was introduced successfully under Initial Operating Capability (IOC) in 2010. With Full Operation Capability being reached 23 July 2011, the equipments are now being used extensively operationally worldwide. To date CDLSE has performed well in many operational scenarios."
In order to maintain a high level of service support with the procurement of CDLSE, Divex with the help of the MoD, established the Southern Base Facility, which was instrumental in aiding CDLSE reach full operational capability.
Glyn Gilbert, General Manager Defence and In-Service Support at Divex, commented: "Divex CDLSE has returned the Royal Navy capability to a 60mtr diving. Returning to 60mtr diving was of paramount importance to the Royal Navy and is something Divex can justifiably be proud of. The equipment has seen some very extreme conditions and has been dived through many serials. CDLSE has proven itself in design and test and is now proving itself where it really matters, in the field of operation."
The Divex family of rebreathers offers the unique capability of modular equipment design to provide easy upgrade paths and equipment variations for multi-role use without the need to purchase complete new systems. This commonality of parts is found throughout the range covering Stealth CDLSE, Stealth SC, SOBA, Shadow, Shadow Excursion and the latest Shadow variant, the Enforcer. Additional equipment to complement the range includes the Dual Mode Mask, Dual Mode Bite Mouthpiece, Secondary Breathing System and a range of diver communication options.