Damen's Oranjewerf Yard ISO 9001:2008 Certified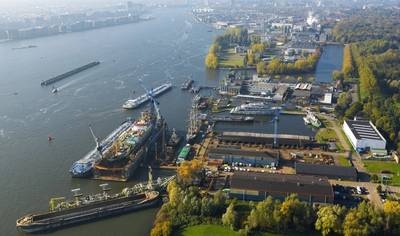 Damen Shiprepair Oranjewerf (DSO) has become the latest Damen ship repair yard to receive ISO 9001:2008 certification, demonstrating that the yard fulfils the requirements of the defined management system standards to consistently provide a high quality service that meets all customer, statutory and regulatory requirements through a process of continuous improvement. This specifically refers to the repair, maintenance, inspection and drydocking of inland vessels, seagoing vessels and other steel constructions.
Located in the
port of Amsterdam
, DSO undertakes the full range of maintenance, repair and conversion projects on all classes of vessel.
In 2015 the management of the yard commissioned an external auditor to review and document the yard's processes over a number of months and make recommendations regarding any that needed to be brought up to standard. Improvements were made where necessary and, after a second, internal, audit to ensure that everything was in compliance, the ISO inspectors were invited to the yard.
"A proven quality management system according to ISO standards, with evidence by means of certification, is important for many of our customers," said DSO's commercial manager Jeen van der Werf. "Operators in the offshore sector and elsewhere value the confidence they get from knowing that independent inspections have validated the quality and operational standards of their industry partners.
"And we are not stopping there," he continued. "Our next goal is certification for ISO 14001:2015, which will demonstrate our commitment to international environmental standards across all our activities. We see it as our duty to meet and exceed our customers' expectations when it comes to quality and responsibility."
Coenraad Tool, Quality Manager at Damen Shiprepair & Conversion added:,"The success of Damen Shiprepair Oranjewerf in achieving ISO certification is another milestone in our process of increasing customer satisfaction across the group through enhanced customer focus. This includes establishing a set of harmonized and documented procedures and routines that exceed the ISO standard requirements, as a basis for the update of yard Quality Management Systems. With the release of ISO 9001:2015 and ISO 14001:2015, we are now reviewing and updating the current implemented
Quality Management Systems ahead
of September 2018."