Pacific Pilothouse Grande, Ergonomic Design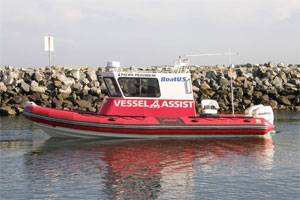 A pilothouse designed for towboats to meet a variety of demanding on-water conditions will be displayed on a 28 ft Zodiac rigid inflatable by Capt. Rob Butler, President of Vessel Assist San Diego, at the C-PORT 22nd Annual Conference, January 30-February 1 at the Sandestin Golf and Beach Resort in Destin, Florida.
Manufactured by Pacific Pilothouse of Fallbrook, California, the Grande Pilothouse accommodates up to four crew members in more than 60 square feet of workable space. Pacific Pilothouse specializes in the design and construction of ergonomic pilothouses for center console conversions. As potential first responders, the towboat captain and crew's comfort and performance is crucial.
The aft side of the Grande can be easily sealed off with canvas or a door for full 360-degree protection from the elements. Diamond Sea Glaze fixed front windows and side sliders provide plenty of airflow and offer superior protection from crashing waves. It can house a galley, port-a-potty and other equipment. The cuddy can be used to stow gear or as a berth where two adults can sleep comfortably.
Capt. Butler first installed the Grande on his Zodiac in February, 2008. "I have put almost 6,000 miles on the water and the Pacific Pilothouse has performed like it was molded onto the boat," he said. "We have experienced TS FAY, Hurricane GUSTAV, Hurricane HANNA and Hurricane IKE with seas as big as 12 feet and 30 knots wind. At one point we came off a wave with no back and the boat landed flat (like a belly flop) from about 12 feet. The crash was so hard it ripped the seats off the mounts, but there was never so much as a hint of stress on the house," he added.
"We covered the entire Washington-Oregon coast, entering and exiting almost every harbor, the entire Chesapeake Bay, Louisiana including the Mississippi, from Miami to Everglade City around Key West, ½ the Texas coast, South Carolina and Georgia twice, 250 miles up the Columbia River, the Potomac River and the James River. We are looking forward to having over 15,000 miles on the water by the end of this year. I will be putting Pacific Pilothouses on two of my older Vessel Assist Boats and my new 33 ft rigid hull boat being built in 2009," Capt. Butler said.