ADT Signs Borouge Packaging Service Deal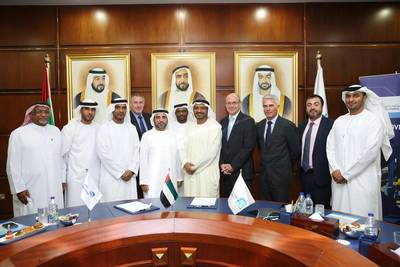 Manager and operator of Khalifa Port Container Terminal, Abu Dhabi Terminals (ADT), says it has signed a contract with Borouge, a leading provider of plastics materials, to design, construct and operate a state-of-the-art packaging facility for Borouge's export products at Khalifa Port.
The contract was signed by Abdulaziz Alhajri, CEO of Abu Dhabi Polymers Company (Borouge), and Martijn Van De Linde, CEO of ADT, during a ceremony that took place at Borouge's headquarters in Abu Dhabi. The signing ceremony was attended by Wim Roels, CEO of Borouge's Marketing & Sales Company, and senior management officials from Borouge and ADT.

Khalifa Port explains that it is the primary UAE gateway for Borouge's products to their customers around the world. Based on this agreement, the new packaging facility will enhance Borouge's overall packaging capacity and supply chain network flexibility.

Commenting on the signing of the contract, Abdulaziz Alhajri, CEO Abu Dhabi Polymers Company (Borouge), said "We are delighted to sign this contract with Abu Dhabi Terminals, and we are confident that the advanced packaging solution that ADT is going to provide us under this agreement, will further strengthen our supply chain capabilities and support our growth. In addition to the existing packaging facilities in our Ruwais plant and in our regional hubs in China and Singapore, the new packaging facilities and services in Port Khalifa will give us more flexibility to better serve our customers and achieve our business targets all over the world."

Borouge produces 2 million tonnes of polyolefins at its petrochemical plants in Ruwais and is currently expanding its industrial complex that will be resulted in increasing its total production capacity to 4.5 million tonnes in 2014. The new packaging facility set to be built at Khalifa Port is expected to be completed in early 2015 with a total capacity of 385,000 metric tonnes.