Hamburg Süd Receives Panalpina Award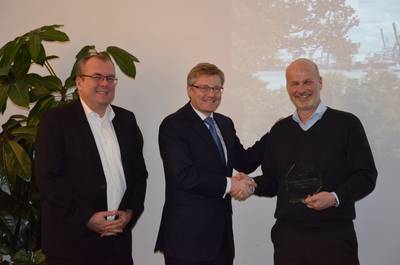 Hamburg Süd has been recognized for the first time with the "Carrier of the Year" Award by the internationally operating transport and logistics group, Panalpina, based in Basle/Switzerland.
Peter Frederiksen, Member of the Executive Board of Hamburg Süd, accepted the award at the shipping company's headquarters in Hamburg in mid-January.

The Panalpina Award is the result of the "Panalpina Ocean Freight Carrier Survey 2014", for which the company asks around 1,700 employees worldwide to evaluate their daily dealings with various shipping lines according to different criteria. Hamburg Süd achieved the highest overall score and received top marks in the categories Productivity and Efficiency, Commercial Collaboration, Flow of Information and Relationship.

"Hamburg Süd and Panalpina have worked together as successful business partners around the world for many years. We are delighted to receive this award, as it recognizes the intensive efforts on the part of all our staff to provide Panalpina with high-quality service at all times," Peter Frederiksen commented.