Navis N4, Kalmar SmartPort Chosen for Paraguayan Ports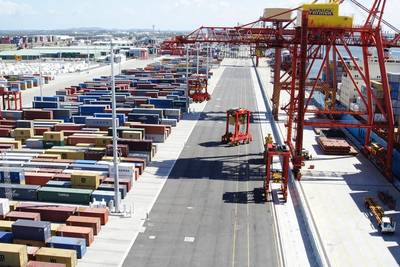 Kalmar and Navis, both part of Cargotec, revealed at 'Intermodal South America' that Puerto Caacupe-mi in Paraguay has chosen Navis' N4 terminal operating system (TOS) and Kalmar's SmartPort process automation solutions for its Asuncion and Pilar facilities.
Cargotec explain that Puerto Caacupe-mi selected N4 due to the TOS' flexibility to adapt to individual customer needs, and at the same time, achieve greater agility, efficiency and control in handling large cargo volumes.

In addition, the Puerto Caacupe-mi Asuncion and Pilar terminals will implement Kalmar SmartFleet, offering real time and historical data for remote equipment monitoring for all tracked assets, as well as Kalmar SmartMap, providing a terminal view of the operations.
Together, the Kalmar solutions will increase security and productivity with yard operations, improve the quality of information and reduce human error and enhance terminal truck operator efficiency. By implementing these SmartPort modules along with the N4 TOS, Puerto Caacupe-mi Asuncion and Pilar will experience improved efficiency at the ports, achieve competitive advantages in the region and above all, provide better service to its customers.

"When we've combined Navis and Kalmar technologies in the past, our customers have been impressed with the results. We're looking forward to delivering both Navis and Kalmar solutions at the Puerto Caacupe-mi terminals," says John Scott, Vice President, Automation at Kalmar. "While N4 and SmartPort will be achieving separate tasks, at the end of the day, the two technologies will accelerate the efficiency and growth of the ports in the region and within the industry at large."

www.navis.com
www.kalmarglobal.com