Paramarine Software for Stability Analysis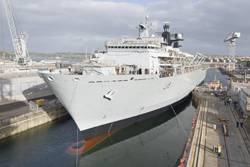 Paramarine marine design software, developed by QinetiQ GRC, is being used by Babcock in its Marine and Technology Division, to support both their defense and commercial maritime business. Babcock employs over 27,000 people across the UK,
Africa
, North America,
Australasia
and the Middle East. In its Marine and Technology Division Babcock employs more than 50 naval architects who work for a number of navies including the UK Royal Navy. In the commercial sector
Babcock also
works on offshore renewable energy service vessels.
"Paramarine is a powerful and robust tool, excellent for the specialized work we do on complex ships. It is our marine design software tool of choice when it comes to stability and naval architecture calculations for the MoD. It is also used to develop concepts for bids. Its early stage design module allows us to build concept designs quickly and efficiently," said Ben Munro, Principal Naval Architect, Marine and Technology Division, Babcock.
Paramarine is based on over 20 years' experience in marine design. Thousands of concept vessels have been modelled and their stability analysed using Paramarine. Paramarine is used by many of the world's leading shipbuilders and ship designers, as well as some of the world's leading universities including the Massachusetts Institute of Technology and University College London. The software is constantly being improved based on customer feedback and the incorporation of new technology. The launch of the latest version of Paramarine has further extended and enhanced the software's functionality with enhancements to its reporting, concurrent design and documentation capabilities.
"Paramarine's versatility, richness in functionality and broad range of capabilities is reflected in the fact that our customer profile includes large organisations such as Babcock, a raft of world renowned universities running naval architecture courses and specialist design companies such as Keel Marine who work in both the defence and commercial sectors," said Vittorio Vagliani, Managing Director, QinetiQ GRC.