Van der Velden and MMG Partner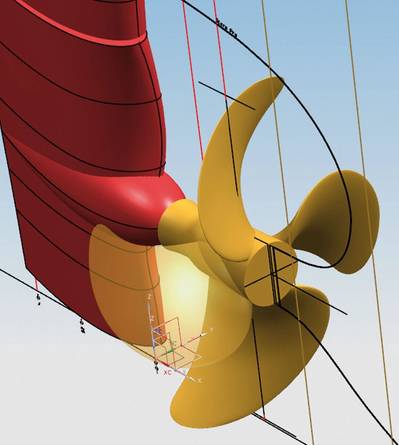 Van der Velden and MMG introduce tailor-made optimal propeller rudder arrangement.

Van der Velden Marine Systems, specialist in manoeuvring for the entire maritime market, and Mecklenburger Metallguss GmbH, expert in designing and manufacturing propellers, have founded a partnership. Combining decades of knowledge has resulted in the development of a highly effective and efficient propulsion package: the Energy Saving Package.

Due to rising fuel costs and the highly competitive ship market, ship owners and charterers attach more and more importance to efficient and fuel saving operation of their ships. With slow steaming and a number of fuel saving products which have been (re-)introduced into the market within the last years, ship owners and operators are going to reduce their operation and maintenance expenses as much as possible. With the Energy Saving Package, MMG and Van der Velden provide a smart maritime solution for this trend.

Energy Saving Package: A tailor-made smart maritime solution
The Energy Saving Package consists of a tailor made propulsion package which meets the customer's requirements. MMG and Van der Velden combine the advantages of an optimised, highly efficient fixed pitch propeller with an asymmetric leading edge rudder with a propulsion bulb and adapted hub caps.

Conjointly with the ship owner, the naval architect and/or the yard, front end engineering design (FEED) will exactly identify the needs according to the ship's operational profile and optimise the propeller rudder-arrangement depending on the particular criteria, such as fuel efficiency, good and effective manoeuvrability, minimising of cavitation and vibration, and low maintenance effort. This results in an optimised propeller geometry and a slip stream adapted rudder geometry . A propulsion bulb, junction caps or boss cap fins are part of the solution.

Benefits and applications
The Energy Saving Package provides the efficient and fuel saving ART rudder, ensuring highly effective manoeuvrability. A special lay-out modifies the profile above and below the centreline of the propeller in such a way that the effects of the rotation of the propeller slipstream are countered. This expands the cavitation-free rudder angle and reduces drag (increasing speed or improving fuel consumption), while the well-designed propellers prevent tip cavitation. Finally, the Costa bulb, junction cap or boss cap fins prevent hub vortex losses and cavitation.

The new Energy Saving Package is currently available for fixed pitch propeller systems by MMG, in combination with Van der Velden full spade rudders. Both new design and retrofit are possible.