Rotterdam Port in Container Shipping Partnership with Barge Terminal Tilburg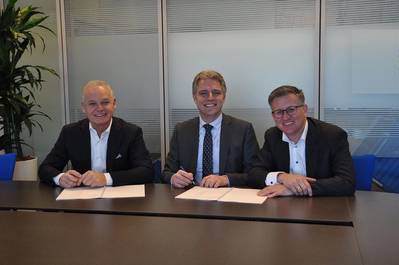 Barge Terminal Tilburg, Combined Cargo Terminals, Moerdijk Container Terminals and Danser Group have joined forces, agreeing to combine cargo along the route between Tilburg, Moerdijk and the port of Rotterdam.
This allows them to cut back on the number of vessels required – resulting in less congestion during handling in the port of Rotterdam.
The collaboration between these private parties and Rotterdam's deep sea terminals in the 'West-Brabant Corridor' is the first concrete initiative supported by the
Port of Rotterdam Authority
within the incentive scheme and sector consultation programme launched in 2017.
In practice, the collaboration means that vessels that call on multiple terminals in Moerdijk and Tilburg will be combining cargo destined for a single deep sea container terminal in the port of Rotterdam – and vice versa.
"Sea-going container vessels are becoming bigger and bigger," says Luc Smits, Managing Director of Combined Cargo Terminals in Moerdijk. "And the 'hinterland' will need to follow suit by bundling cargo and thinking in terms of corridors rather than simply lining up on the water. This ensures that inland shipping remains a reliable and competitive transport option."
The initiative came out of the sector-wide inland container shipping consultations launched by the
Port of Rotterdam Authority
on 8 September of last year. This consultation was organised in response to various reports of increased waiting times at Rotterdam's deep sea terminals.