US ONR Supports Navy's New Energy Partnership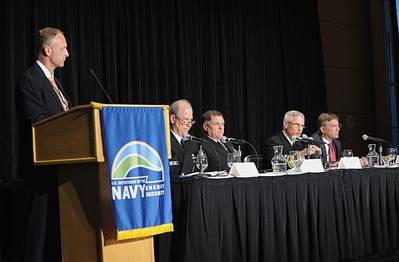 The Office of Naval Research (ONR) is committed to development of alternative energy sources, moves ahead with new research effort.

The Energy Systems Technology and Evaluation Program (ESTEP) that has started in FY13 is bringing together key players during a five-year period to conduct real-world tests on advanced energy technologies at Navy and Marine Corps installations.


Addressing the recent Naval Energy Forum in Washington, DC, Chief of Naval Research Rear Adm. Matthew Klunder said: "The lifeblood of innovation is new ideas, and you don't get new ideas without collaboration across industry, academia and DoD. The partnerships at work under this new program, and the alternative energy technologies we are exploring, are vital to our energy independence and to the training and education of our Sailor and Marine energy workforce."


In addition to evaluating and testing alternative energy technologies, the ESTEP program looks to give Department of Navy (DoN) personnel training and education opportunities to become part of the future energy workforce. That effort includes partnerships with the new energy curriculum at the Naval Postgraduate School (NPS) and veterans and wounded warrior programs at San Diego State University.



ESTEP includes participants from ONR; NPS; Naval Facilities Engineering Command; Space and Naval Warfare Systems Command; and, Klunder emphasized, partnerships with industry. The focus of the program will be primarily on innovative commercial energy technologies obtained from open-market sources, including small businesses.