Passenger Ferry LNG Conversion Project Kicks Off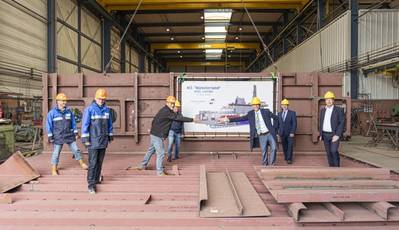 Dutch shipyard Royal Niestern Sander has begun building a new aft for a passenger ferry that will be converted to liquefied natural gas (LNG) propulsion for German operator AG Ems.
The shipyard is designing and building a completely new stern section to replace the one existing on the 1986-built passenger ship Münsterland, which will be fited with dual fuel engines, LNG storage tanks, propulsion systems, all LNG installations, pipelines and other systems.
Niestern Sander was awarded the contract to undertake the project in July 2019, and its approach includes performing as much of the construction work as possible before the vessel enters the shipyard in order to reduce idle time. In the meantime, the Münsterland can continue to operate while the majority of the conversion operation takes place at the yard's ship construction site.
The LNG conversion project, which is partially funded by the European Union's European Regional Development Fund, will reduce the vessel's emissions output significantly. The new stern will also reduce hull resistance and therefore cut fuel consumption and noise, the builder said.
In addition to emission benefits, the conversion project will extend the service life of the 34-year-old vessel, which in theory, has reached the end of its life cycle. Many technical systems are being replaced and upgraded, and much of the ship will be as new again. This doubles the lifespan of most of the vessel and saves a lot of material.
The old stern with old systems and installations will be dismantled by Niestern Sander, and as much as possible will be recycled.
When the conversion is completed, AG Ems will put the Münsterland back into service between the Dutch Eemshaven to the German Wadden Sea island Borkum in its new form in the ready to the start of summer-schedule at Easter 2021.
Münsterland is AG Ems' third LNG ferry. In 2015 the group started with two LNG-ferries. Ostfriesland, a sister-ship of Münsterland, is in service from the German harbour Emden to Wadden Sea island Borkum and Helgoland from Cuxhaven to the island Helgoland. Ostfriesland is the first ferry in Europe that was modified with the new LNG-technology while Helgoland is the first newly built ship of its class in Europe.