Passenger Vessel Grounds in the Saint Lawrence River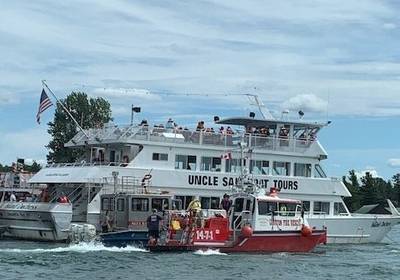 All passengers have safely debarked a passenger vessel that ran aground and began taking on water in the Saint Lawrence River near Alexandria Bay, N.Y., Thursday afternoon.
The U.S. Coast Guard said it received a report at 1:17 p.m. that the tour boat Island Duchess, operated by Uncle Sam Boat Tours, had run aground with 134 passengers on board for a day cruise.
All passengers were transferred via responding assets from multiple assisting agencies to another USBT-operated vessel, Uncle Sam 7, and transported to shore with no reported injuries, the Coast Guard said.
Coast Guard and local fire department personnel are on board Island Duchess assisting the vessel's four crew members and assessing the situation to conduct salvage operations.
The vessel has remained stable despite its breached hull, Lt. Sean Dolan, Chief of Waterways Management, U.S. Coast Guard Sector Buffalo told MarineLink.
"Our crew's swift efforts in conjunction with local fire departments to dewater the vessel improved its stability so that salvage operations can continue," Dolan said.
The cause of the incident is unknown, but Coast Guard Marine Investigators, New York State Police and New York Department of Environmental Conservation are traveling to the scene to conduct a full investigation.