New Patrol Boats for SEA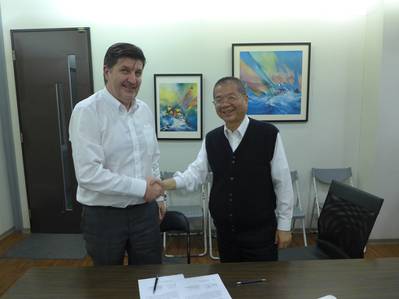 Taiwanese boat builder Lung Teh Shipbuilding Co., Ltd. (LTS) has recently won the contract to deliver a series of patrol boats to an unspecified government in South East Asia. The first boat in the series will be delivered early 2015.

The boats have 19 m long aluminum hulls equipped with twin MJP DRB 400 waterjets coupled to MAN 1,650 hp engines and will reach speed of about 50 knots. They also have beaching capability.

Since the vessels are expected to have a very high number of annual working hours, the customer specified equipment with an emphasis on low life cycle cost. Marine Jet Power DRB-series waterjets are built in high-quality materials and with heavy-duty design leading to low maintenance cost plus high reliability. High-efficiency mixed-flow pump means high top speed and low fuel consumption. Marine Jet Power's 5-year warranty and a regional office in Singapore were also appreciated by the customer.

The boats will have a crew of six and are capable of operating in territorial waters under year-round weather and sea conditions.

Lung Teh Shipbuilding builds fast speed boats in aluminum, steel and GRP at five different yards in I-Lan with about 200 employees. Further to this order, LTS has under production ferries and a 60 m missile catamaran for Taiwan Navy. This vessel will be equipped with quad MJP CSU 850 waterjets.