Tunnel Thruster Pitch Control System Repairs Performed on Container Vessels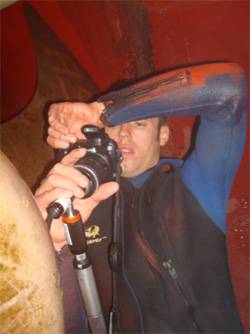 Operational Tunnel thrusters are necessary maneuvering tools when it comes to operations in the container business.
With vessels entering and departing ports at least 4 times per week, it is easy to rack up high tug and support vessel costs if these essential pieces of equipment are not in service. Additionally, as this market remains very competitive, operators are reluctant to take their assets out of service for repairs.

This is where the Subsea Solutions Alliance is called upon to make critical repairs. Instead of taking the vessel out of service for a period of time and exchanging the affected tunnel thruster, a critical in-water repair was selected to put the system back into service. Developing a repair time line and repair procedure in accordance with the Original Equipment Manufacturers and Class requirements, the Subsea Solutions

Alliance performed the critical exchange of the OD box and pitch feedback rod together with the OEM in the Eastern Mediterranean Sea. As required by the thruster manufacturer, in this particular case, the OD Box and pitch feedback rod were exchanged in a completely dry environment utilizing the Subsea Solutions Alliance flexible hyperbaric door system. With the vessel along side doing cargo, the diver / technicians went to work. Access to the tunnel thruster was achieved by removing part of the tunnel thruster grating system with our carbon arc gouging system.

Attachment points were wet welded into place utilizing the Subsea Solutions Alliance's "A" class wet welding procedures. Once attachment points were in place the flexible door system was installed and a dry hyperbaric environment was developed. Just like in the drydock, the factory trained diver / technicians of the Subsea Solutions Alliance opened the rear section of the tunnel thruster and exchanged the affected OD box and pitch feedback rod. Within 12 hours, the damaged parts were replaced and the vessel's tunnel thruster was put back into service. The vessel left on schedule with a newly repaired tunnel thruster.