Navy Racing to Help Victims of Philippine Typhoon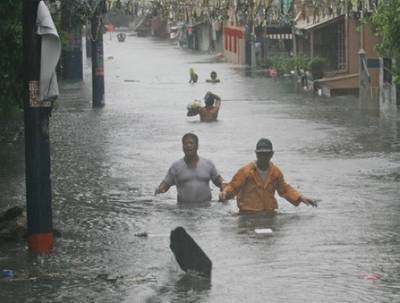 The aircraft carrier 'USS George Washington' and other U.S. Navy ships have been ordered to make best speed for the Republic of the Philippines, and at the same time Britain is deploying a warship & military transport aircraft to help people devastated by Typhoon Haiyan.
The aircraft carrier, which carries 5,000 Sailors and more than 80 aircraft, is currently in Hong Kong for a port visit. The crew is being recalled early from shore leave and the ship is expected to be underway soon.

In company with the carrier will be the cruisers USS Antietam (CG 54) and USS Cowpens (CG 63), and the destroyer USS Mustin (DDG 89). The supply ship USNS Charles Drew (T-AKE-10) is already underway and will rendezvous with the group as they get closer. USS Lassen (DDG 82) got underway yesterday for the region. Embarked on board USS George Washington, is Carrier Air Wing Five (CVW-5).
Britain's HMS Daring and her crew will provide humanitarian assistance, helicopter lift from one on-board Lynx and engineering and first-aid expertise. The Type 45 destroyer also carries equipment to make drinking water from seawater. At least one Boeing C-17 will be allocated to move vital humanitarian aid and large equipment to where it is needed.

UK International Development Secretary Justine Greening said: "The scenes of utter devastation in the wake of Typhoon Haiyan are shocking in their scale and we know that the survivors, especially vulnerable children and women, now face a grim and uncertain future.
"Britain is determined to stand by the Philippines and we have now pledged a total of £10 million to get 800,000 people the food, water and shelter they urgently need."