Phillystran Wins US Navy Ropes Contract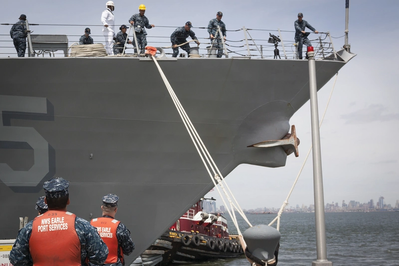 Phillystran has been awarded a five year contract to supply mooring lines to the US Navy. The new contract follows the successful completion of a five year contract in which Phillystran supplied over 1 million feet of Aramid mooring lines to US Navy ships.
Part of the WireCo WorldGroup, Phillystran has worked with the US Navy and US Coastguard for over 40 years, developing and supplying ropes that set the benchmark for fiber rope performance and innovation. Phillystran ropes are NAVSEA approved for lifelines, mooring and towing lines, together with boat preventer stays, lashing ropes and rigging lines.
Proven rope performance
Phillystran's four strand, wire lay construction Aramid ropes (PSFS) have been specifically designed for dock mooring lines, (floating) dry dock tending lines, breast lines, storm lines and any application requiring ropes that are easy to handle and splice. PSFS ropes consist of four Aramid fiber strands around an independent synthetic core, with a range of jacket types for outstanding levels of abrasion resistance and enhanced service life.
Safety - Reduced Recoil
Safety and ease of handling characterize Phillystran mooring lines. For the US Navy, Phillystran developed a HMPE (high modulus polyethylene) and Aramid fiber rope mooring line with a reduced recoil feature. In the event the mooring line has been previously overloaded and weakened, one of the rope's four strands will break giving an early warning that the line is about to fail, allowing sailors to get to safety before the line completely parts.