Phoenix Express 2008 Underway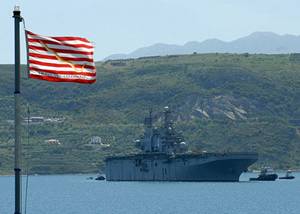 From Nassau Strike Group Public Affairs Office
Phoenix Express 2008 (PE 08) wrapped up the inport portion of the exercise on April 13 and began the underway portion of the two-week exercise on April 14 with 12 ships getting underway from Naval Support Activity, , .
Two ships from the Nassau Expeditionary Strike Group (NAS ESG), the amphibious assault ship USS Nassau (LHA 4) and the amphibious transport dock USS Nashville (LPD 13); along with the frigate USS John L. Hall (FFG 32) and the fleet replenishment oiler USNS Patuxent (T-AO 201) are representing the . Eight other ships are also participating in the exercise, including the Algerian training ship La Soummam (937); the French salvage ship FS Acheron (A 613); the Greek auxiliary ship Evros (A 415); the Greek frigate HS Spetsai (F 453); the Moroccan frigate Mohammed V (611); the Portuguese frigate NRP Corte Real (F 332); the Spanish corvette SPS Infanta Elena (P 76); and the Turkish frigate TCG Gelibolu (F 493).
While inport, members of PE 08's combined maritime forces trained at the newly certified North American Treaty Organization's (NATO) Maritime Interdiction Operational Training Center (NMIOTC). The center, certified by NATO on April 2, offers classroom training to the participants, as well as simulator training and practical exercises. Throughout the courses, students learned small boat handling, small arms training and proper container inspection.
Underway events will focus on maritime domain awareness (MDA) and the automatic identification system (AIS) including interaction between forces afloat and a maritime operations center ashore.
Combined maritime forces will also conduct serials in force protection, maritime interdiction operations (MIO), search and rescue (SAR), replenishment at sea (RAS), towing and helicopter operations. A comprehensive and robust underway training agenda will provide participants with numerous opportunities to operate together and develop productive relationships.
Inport events, completed from April 7-13, were hosted at , , and focused mainly on medical training and MIO training. Combined maritime forces also conducted workshops in helicopter operations and safety, damage control and firefighting, navigation, deck seamanship, search and rescue SAR, small boat operations and a leadership round table.
Exercises like PE 08 enable participants to advance information sharing, which is crucial to maintaining a region free from transnational threats, as well as enhance capability to conduct multinational peacekeeping missions.
PE 08 is the third annual exercise in a long-term effort to improve regional cooperation and maritime security. The principal aim is to increase interoperability by developing individual and collective maritime proficiencies of participating nations, as well as promoting friendship, mutual understanding and cooperation.