Planning Starts on Shiptec China Mega-Expo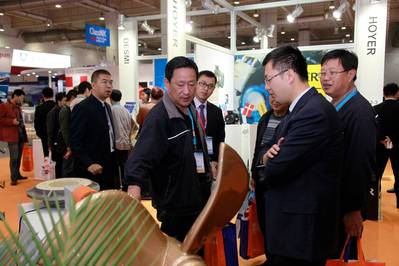 Planning now underway for the International Shipbuilding, Marine Equipment & Offshore Engineering Exhibition in Dalian, China
This increasingly important event takes place between the 21 and 24 October, 2014 at the Dalian World Expo Center..
The 10 Shiptec took place at the World Expo Center towards the end of 2012 and exceeded all previous events. In total 438 companies from 21 countries took part, showcasing their latest innovations on a gross exhibition area of 23,000 square meters. The four‐day exhibition attracted over 15,000 professional trade visitors and conference delegates from 28 countries and regions and, despite the ongoing global economic downturn, Shiptec China saw an increase of 15% in terms of exhibition size, making it the most valued international maritime exhibition of the year in China.
The exhibition featured six international pavilions, from Denmark, Germany, Japan, Norway, South Korea and the Netherlands while overall international companies accounted for some 30% of the total number of exhibitors and exhibition space.
Amongst the international exhibitors were many leading companies such as ABB, Wärtsilä, MAN, Panasia, Carterpillar, DSM and most of the classification society members of IACS including ABS, CCS, ClassNK, DNV, GL, KR and RINA.
The Chinese shipbuilding industry was also strongly represented with 34 individual shipyards from the six groups CSIC, CSSC, Rongsheng, CSC Shipbuilding, China Shipping, and COSCO Shipbuilding. State shipbuilding group CSSC, with its member shipyards mainly located in the southern part of China, participated in Shiptec China for very first time.
Supporting the exhibition were a number of conferences. Offshore Forum China, jointly hosted by China Association of the National Shipbuilding Industry(CANSI), Innovation Norway and the Danish Marine Group China, was a full day senior summit followed by a half day technical seminar. It attracted over 200 delegates who heard presentations by speakers invited from the oil and gas administration of the Chinese central government and many other international organisations and companies.

For the first time, ship financing was covered at Shiptec China with the Ship Financing Forum. This was well attended by ship owners, brokers and shipyards
A technical seminar on LNG as a fuel and green ship technologies etc, was also held in conjunction with the main exhibition with experts from the participating classification societies, including ABS, CCS, DNV, GL and RINA.
The biennial event is sponsored by the China Association of the National Shipbuilding Industry, China Shipowners' Association, Chinese Society of Naval Architects & Marine Engineers, and the Dalian Municipal People's Government. It is organised and managed by Dalian Xinghai Exhibitions Co Ltd and now the focus moves to next year and an exhibition that is expected to be even larger.