Siemens Install Big N. Sea Wind Power Platform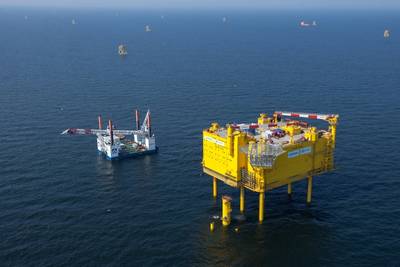 Siemens has installed the HelWin1 offshore platform, their first in the North Sea, marking the successful completion of a significant stage in German offshore wind power grid connection projects.
When the HelWin1 converter platform goes online, it will link the Nordsee Ost and Meerwind wind power plants to the mainland.

The platform will convert the up to 576 megawatts (MW) of electricity produced in the wind power plants to direct current and transmit it via submarine cable to the German mainland 85 kilometers away. The low-loss direct current power is then converted back into alternating current at a converter station on land and fed in to the German power grid.