New Liferaft for Offshore Platforms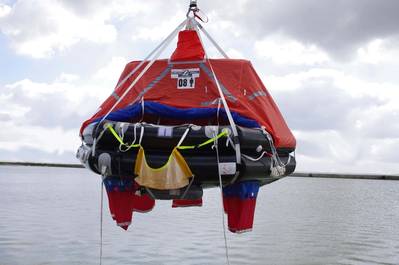 Survitec Group is announcing a new davit-launched liferaft aimed at meeting the escape and survival needs of workers, passengers and crew on offshore platforms or high freeboard vessels. The liferafts are the newest addition to the comprehensive range of escape slides and rafts manufactured under the SurvitecZodiac brand, and incorporate the latest expertise and innovation in escape equipment design and technology. They also form part of the Survitec Group's broad range of Launch and Recovery Systems (LARS) for offshore platforms and vessels. This includes liferafts, escape slides, escape chutes and lifeboats and is a market to which the Survitec Group has been giving increasing attention in response to customer demand. Because of this the new davit launched liferaft has also been designed for use on the world's tallest wind turbines for which there is currently no viable alternative escape method.

The new liferafts are available in two sizes weighing either 84 or 63 kgs (Solas A or B pack). Both can accommodate up to eight people and are stored in a durable GRP container. In an emergency the container is connected to a davit and swung outboard where it is inflated and boarded. The davit brake is then released, either by a crew member on deck or by a liferaft occupant pulling a release line. The life raft will then descend safely into the sea from any height up to 36 metres.

Sea anchors are automatically deployed beneath the liferaft to reduce drift, enhance stability and ensure that survivors stay together to increase the speed of rescue. Both sizes of liferaft are fitted with connecting points so that they can be towed to a safer or more practical location. Even with sea anchors deployed the smaller of the two liferaft can be towed fully laden at speeds up to 3 knots without risk of damage.

Careful design has been applied to the detail of the launching procedure to make inflation, loading and deployment of the new liferafts as quick as possible. Trials have shown that the SurvitecZodiac liferaft can be made ready by trained crew, boarded by eight people and lowered 36 metres to sea level in just four minutes.

The new davit-launched liferaft also introduces a range of benefits for naval architects seeking to optimise space on a ship or platform. The cylindrical container for the A-Pack liferaft is 1275mm long while the B-Pack measures just 1160mm. These can be stored in racks holding up to seven containers. Their size and relatively light weight compares very favourably with that of a 50 person lifeboat while also being available at a much lower cost.

Convenient routine servicing is another advantage provided by the davit-launched liferafts when used instead of lifeboats. Liferafts can be dispatched for servicing individually or in small numbers and this ensures that a substantial percentage of the platform or ship's escape facility remains available at all times.

The new davit-launched liferaft is manufactured in France at the modern Survitec Group factory at Chevanceaux near Bordeaux. It is a leading innovator in rescue system technology and is an important contributor to the Survitec portfolio of some of the most reputable brands in the safety and survival equipment industry. Key products within the Survitec Group include marine, defence and aviation liferafts, escape slides and world-leading submarine escape technology. The company also manufactures lifejackets for commercial airlines and the offshore industry as well as pilot flight equipment including anti-g clothing used for the Eurofighter and JSF programmes.