Port Said Tunnel to SCCT Opened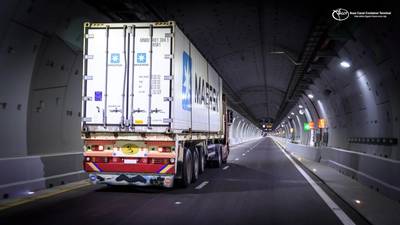 The opening of the Port Said tunnel, under the Suez Canal just south of Port Said last week is an important piece of the jigsaw required to position the Suez Canal Container Terminal (SCCT) as Egypt's primary gateway terminal.

Construction of the twin-tubed, 4-lane road tunnel began in 2017. Its inauguration follows the opening of the Ismailia tunnel earlier this year and the 30th June Axis road, a 10-lane highway with 2+2 dedicated lanes for trucks.

With the terminals strategic location offering no deviation from the main routes on trade lanes between Asia and Europe, around 95% of SCCT's traffic has historically been made up of transshipment volume.

"The new tunnel, built to internationally recognized security standards, provides a fast connection to the highly populated districts in the Nile Delta and key industrial zones in Greater Cairo, also making SCCT a cost-effective option for import and export customers," said Lars Vang Christensen, CEO of SCCT.

"We thank the Government of Egypt and Suez Canal Zone and Authority for focusing on infrastructure investments that increases the attractiveness of Port Said East for business and investors. This is a key first step and we are confident this will be followed by other immediate and urgent actions required to once again make Egyptian ports, including Port Said East Port, competitive"

The new Port Said tunnel has already helped reduce congestion at existing access points, providing increased flexibility. The Ahmed Hamdy Tunnel was traditionally used for import consignments and the ferry from West to East for exports.

Both these routes, in the past, had experienced occasional congestion leading to delays in trucks turnaround time. Faster access and reduced waiting times should now significantly reduce trucking costs and therefore lower costs for the Egyptian consumer supply chain when using SCCT.

The new 2.8km-long Port Said tunnel has four, 3.75 m wide lanes, and a height restriction of 4.6m meters, making it suitable for all types of dry and reefer containers, standard and high-cube containers. Current operating hours for the tunnel are between 0800 hrs to 1800 hrs until all processes have been fine-tuned.

SCCT currently has an annual capacity of 5 million TEU. With the anticipated higher volumes, SCCT is currently considering several options to invest in taller cranes and equipment to cater more volumes and activity in Port Said East Port.