USNS Mercy (T-AH-19) Anemometer Positioning Evaluation (APE) Testing Completed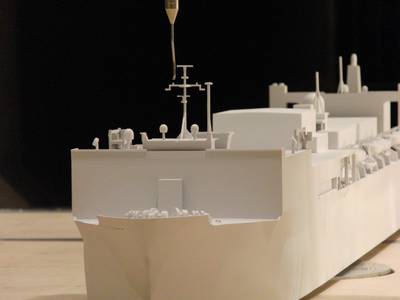 Naval Surface Warfare Center, Carderock Division (NSWCCD) completed Military Sealift Command hospital ship USNS Mercy (T-AH19) Anemometer Positioning Evaluation (APE) testing in support of Naval Air Systems Command (NAVAIR) and Military Sealift Command (MSC), Feb. 8. The testing focused on measuring the airflow of anemometers, wind measurement sensors that are installed on the superstructure of U.S. Navy ships. The APE testing is required to complete the aviation certification process following a new helicopter hangar installation on the ship's superstructure.

"NAVAIR certifies the safe operating range of wind measurement during flight operations aboard Navy ships underway," said Joshua Butler, NAVAIR engineer. "The results from the APE testing provide data that will determine a usable range of wind directions for the anemometers to help ensure safety while launching and recovering aircraft. Additional data will give us an empirical database to better understand the placement of anemometers for the topside design of future Navy ships."
In Jan., NSWCCD printed a 3-D scale model of Mercy's hull with several removable top-side structures. NSWCCD engineers supported the testing in the 8 by 8 foot Anechoic Flow Facility (AFF), a closed-loop wind tunnel which quantifies aerodynamic and acoustic properties of scaled ship or aircraft models and sub-system components.

T-AH class ships were the 9th class of ships to be tested at Carderock. APE testing is a part of the aviation certification process for any new ship class or any existing class that undergoes top-side changes that could impact the aerodynamics at the locations of the anemometers.

The APE testing tied to NSWCCD's technical capability (TC) in providing naval architectural and integrated surface ship and submarine design analysis expertise. To learn more about the 132 technical capabilities across the NAVSEA Warfare Centers, visit: http://www.navsea.navy.mil/Organization/WFC_TECHNICAL_CAPABILITIES_%20Rev4%20FINAL_01June2011.pdf.

NSWC Carderock Division leads the Navy in hull, mechanical and electrical engineering expertise and delivers technical solutions in order to build and sustain a dominant, ready and affordable fleet. Headquartered in West Bethesda, Md., approximately 3,600 scientists, engineers, technicians and support personnel are located across the U.S., which includes the Ship Systems Engineering Station in Philadelphia.