Papua New Guinea Bullish on LNG Potential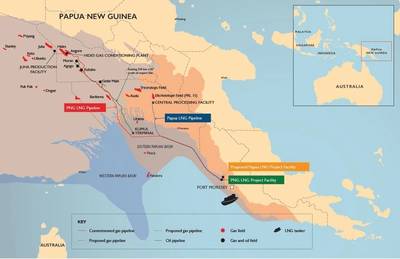 A new wave of investments in Papua New Guinea's energy sector could see some $19 billion of projects launched in the coming years, boosting the country's liquefied natural gas (LNG) output and providing employment to thousands.
France's Total S.A. is progressing work on the Papua LNG Project in Petroleum Retention License (PRL) 15, Papua New Guinea (PNG) and construction of the development is expected to commence in 2018, creating employment for up to 10,000 persons, the firm said Friday when announcing financial results for the first quarter of 2016 (1Q 2016) ending March 31.
The petroleum retention license (PRL) 15 joint venture, which is developing the Elk-Antelope gas discovery as the Papua LNG project, is nearing the final stages of the Elk Antelope appraisal program.
"We continue to make significant progress executing our strategy and advancing the development of the Elk-Antelope fields," InterOil Chief Executive Dr Michael Hession said.
In addition to Total's investment in LNG,
ExxonMobil
is considering expanding output and export capacity at its PNG LNG joint venture, which currently produces about 8m tonnes per year.
In a bid to increase processing capacity, PNG LNG's partners are considering adding a third train to its plant, located north-west of the capital, though a final decision has yet to be made. Global financial services firm UBS predicts that the expansion project could cost up to $9bn.
The commitment to the development of Papua LNG will be welcomed by the government, which is contending with a cooling economy and lower energy revenues.