Iran Preparing for Crude Exports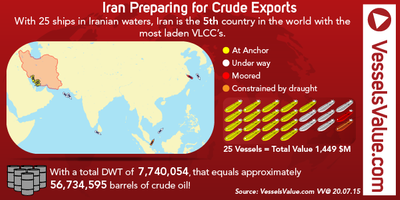 An infographic examining the laden VLCCs owned by Iran has been generated by online ship intelligence and information service VesselValue.com.
Iran stands at present as the fifth largest owner of laden VLCCs in the world by value, currently with 25 vessels worth a total value of $1.449 billion, amounting to 7.7 million DWT, according to VesselValue.com. This is equivalent to 56.7 million barrels of
crude oil
.
Of Iran's 25 laden VLCCs, 17 are at anchor, six are underway, one is moored and one is constrained by draught.