Selling the World's Priciest Ship...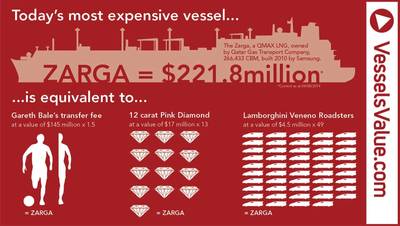 Online ship intelligence and information service VesselValue.com has launched a series highlighting the world's most expensive active vessels, and this week focuses on the costliest of all: QMAX liquefied natural gas (LNG) carrier Zarga, which prices in at a whopping $221.8 million.

According to VesselValue, Zarga's sticker price is equal to 1.5 of Real Madrid footballer Gareth Bale's $145 million transfer fee, 13 12-carat Pink Diamonds at a value of $17 million each, or 49 Lamborghini Veneno Roadsters which cost $4.5 million apiece.

We did our own math to calculate the quantity of other items that could be purchased for the price of The Zarga.
Olympic size swimming pool ($1 million): 221.8
64GB iPhone 5s ($399): 555,889
German Shepherd puppy ($1,100): 201,636
Lego Maersk Line Triple-E toy ship ($149): 1,488,590
Name a star on the International Star Registry ($54): 4,107,407

The Zarga, built in 2010 by Samsung and owned by Qatar Gas Transport Company, has a capacity of 266,433 CBM and is over 340 meters long, making it one of the largest LNG carriers in the world.