Qatar to Boost LNG Production by 30% Amid Arab Dispute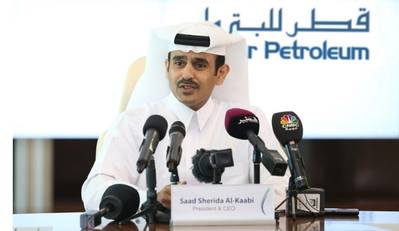 State-owned Qatar Petroleum said Tuesday it aims to raise Qatar's LNG production from 77 million to 100 million tons per year.
The new additional volumes will be secured by doubling the size of the new
gas project
in the southern sector of the North Field, which Qatar Petroleum had announced last April.
This will increase the North Field's production of natural gas, condensate and other associated products by one million barrels of oil equivalent per day.
The announcement was made by Saad Sherida Al-Kaabi, the President & CEO of Qatar Petroleum, who said: "Last April, we announced our intention to develop a new gas project in the southern sector of the North Field that can be targeted for export. With the conclusion of further technical studies, we have decided that the best option would be to double the size of the project to 4 billion cubic feet of gas per day, which constitutes a 20% increase from the current North Field production rate, or about 1 million barrels of oil equivalent per day."
Such an increase would
surpass Australia
's planned expansion and reinforce Qatar's role as a major global supplier - even amid a regional dispute and commercial boycott by a Saudi-led coalition of countries, says a
Bloomberg report
.
Qatar won't halt shipments of natural gas to the United Arab Emirates, he said, even as the UAE along with Saudi Arabia seeks to isolate the Persian Gulf sheikhdom in an unprecedented regional dispute.
Australia, which has spent $200 billion to build LNG-exporting plants, may surpass Qatar as the biggest shipper as early as next year, but lose its leadership by the middle of the next decade given Qatar's latest plans, according to data from Bloomberg New Energy Finance.