HSL Set to Increase Productivity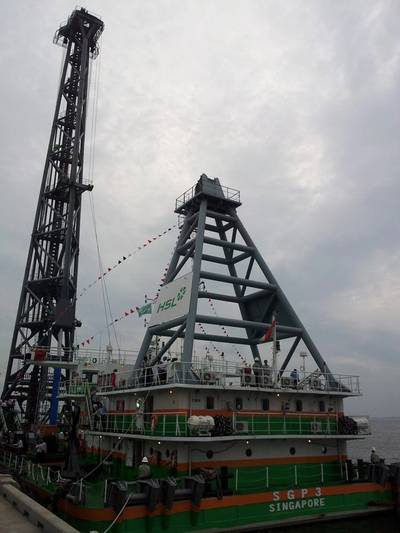 The young Singapore marine and offshore engineering industry will soon get another boost of its market share and dominance in the region with HSL Constructor Pte Ltd's (HSL) latest addition to its fleet of marine vessels.
The local marine civil engineering company has launched a new SGD 10 million piling barge - deemed to be Southeast Asia's largest and the most technologically advanced - specifically to meet HSL's core competency needs and to increase productivity levels, thus providing HSL with the competitive advantage to gain larger projects and expand its regional operations.

Founded in 1994 as a small start-up company, HSL has grown rapidly to become a key regional player in the marine civil engineering sector. Abiding relentlessly by its guiding principles – innovative engineering solutions and construction excellence, the company has accomplished a trail of landmark projects across virtually every industry requiring foreshore structures and facilities. In sharing the company's growth plans, HSL's Managing Director Mr Lim Choo Leng said that "We expect (further) increase in demand for marine infrastructure projects in the region. In order to position ourselves to meet this demand, HSL has to proactively seek innovative ways to improve its Engineering and Construction capabilities. As such, having the new piling barge is a necessary investment for HSL to realise our vision to become a leading regional player in the marine civil engineering sector."

HSL's Executive Director Mr Charles Quek who spearheaded the development of this project shared that "the piling barge superior technical capability and productivity will boost HSL's competitiveness and better our chances to secure larger projects in booming markets around the region." With the new piling barge, HSL has set its sight on expanding its operations in the region; with a focus on the Malaysian, Indonesian and Myanmar markets.

In order to continue its expansion plans and therefore further strengthen HSL's foothold as Asia's leading player in the marine civil engineering sector, HSL has entered into partnership agreements with a Chinese and an Indonesian company, that are also leading marine civil engineering players in their respective markets. The 3 partners will be mobilising in total more than 15 marine piling and construction equipment for this project. This SGD $70m worth partnership will also provide HSL with the equipment and manpower resources to undertake any-sized marine infrastructure projects in the region.

Explaining further the competitive and swift technological developments of the marine engineering industry, Mr Charles Quek added that "despite operating in an equipment-intensive sector, HSL is able to be actively engaged in a wide spectrum of engineering disciplines at it is backed by dedicated teams of multi-skilled professionals who can confidently meet construction and maintenance needs both on land and sea," thereby emphasizing the company's strategic outlook in achieving success by balancing the sustainable effort of developing its workforce in tandem with its pursuit of technological advancements.

The launch event was graced by Guest of Honour, Chief Executive Officer of International Enterprise (IE) Singapore, Mr Teo Eng Cheong. The piling barge is scheduled to be deployed for its next project right after the launch event.