BAE Employee Safety Professional of the Year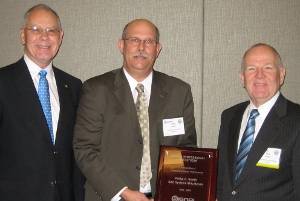 BAE Systems Ship Repair's Director of Safety Assurance, Phil Smith was named Signal Mutual's 2009 Safety Professional of the Year. The annual award honors safety professionals who are instrumental in the development and implementation of outstanding safety practices within their respective industries. Smith was also recognized for helping to improve safety culture by sharing best practices and new safety initiatives with other Signal Mutual member companies.

Smith and the BAE Systems Ship Repair team were recently recognized at a Signal Mutual Indemnity Association Board of Directors and Members meeting held January 29 in Olympic Valley, Calif. BAE Systems Ship Repair recently adopted the OHSAS 18001-2007 Safety Management System to ensure safety and health excellence. In 2009, all four of BAE Systems Ship Repair sites were certified and registered by Lloyds Register Quality Assurance, the international safety management system whose certifications markedly exceed standard regulatory requirements.