Progress Reviewed in Dubai Maritime Sector Strategy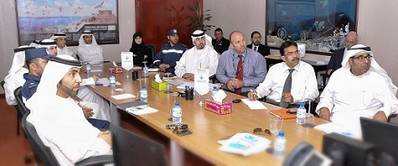 Dubai Maritime City Authority (DMCA), the government authority charged with regulating, coordinating and supervising all aspects of the maritime sector in Dubai, has recently reviewed the progress in the implementation of the new Dubai Maritime Sector Strategy (MSS) which is poised to develop, regulate and promote the industry that will ultimately position Dubai as a first-class international maritime hub. This follows a special workshop that was held recently at DMCA's headquarters in Dubai and attended by key maritime stakeholders and leading relevant government entities who discussed the latest developments and achievements in creating a regionally and globally competitive maritime industry. The workshop also aimed to lay down the foundations to establish the local maritime industry in accordance with the highest standards and best international practices.

The workshop was attended by Samira Mohammad AlRais, Director of Policy and Strategy, Sustainable Development and representatives from Dubai Ports, Dubai Department of Tourism and Commerce Marketing, Dubai Customs, RTA, Dubai Police and Dubai Municipality. The event shed light on the key performance indicators of MSS and the implementation process which has thus far resulted in establishing new industry regulations to ensure compliance with the highest maritime standards.

Participants revealed that the progress made is expected to boost industry productivity and competitiveness while creating an integrated and sustainable maritime environment that is able to respond to market changes and emerging trends by attracting regional and international investors to leverage Dubai's rapidly growing footprint as a key player in the global maritime arena.