Tank Barge Delivered to Progressive Barge Line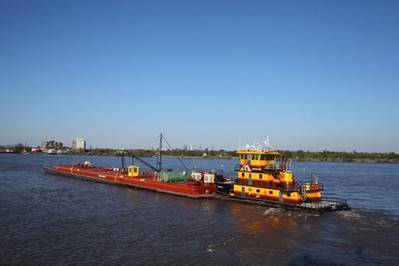 PBL 3421 was delivered by Raymond & Associates, LLC, Bayou La Batre, AL, to Progressive Barge Line, Inc., New Orleans.
PBL 3421 is the first of two barges, both 297.5 x 54 x 12 ft. inland service double skin tank barges, each witha cargo capacity of about 4700 short tons at 11.5 ft. draft. The barges are certified by the U. S. Coast Guard as Type I, Type II or Type III hulls for 1.05 or lower specific gravity products and will be used in Progressive Barge Line's operations on the Gulf Coast.
The barges, designed by The Shearer Group, Inc., have a cargo heating system utilizing a Hopkins Volcanic 8.0 MBTU Thermal Oil Heater, integral vapor control system and redundant cargo pumping systems, cargo metering systems, provisions for "split cargoes" and a fueling boom.