Wärtsilä Propulsion for New Fishing Vessel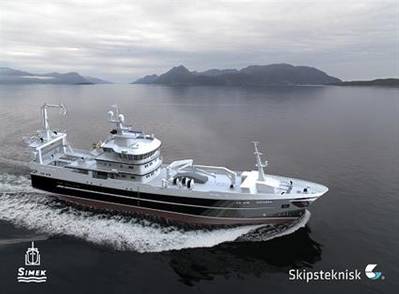 A new fishing vessel being built by Simek AS in
Norway
on behalf of the U.K. operator Antares (Whalsay) Fishing Company Ltd, will feature an integrated Wärtsilä
propulsion solution including
main engine, controllable pitch propeller and gearbox.
According to Wärtsilä, its two-speed gearbox, PTO/PTI and floating frequency solution will provide the vessel with high levels of operational efficiency and flexibility in different operating modes, which were important considerations in the award of this contract signed in June.
The 75.4-meter-long vessel, designed by Norway's Skipsteknisk AS, will be powered by a 12-cylinder Wärtsilä 32 main engine and will operate in the fishing fields around the Shetland Islands in the north of Scotland.
"We needed to replace an existing vessel with a new more efficient design. It is very important that the ship is capable of reliable and efficient transit to and from the port and flexible trawling operations. We have experience with Wärtsilä machinery and are confident that it will fulfill all the needed operational requirements for the owners," stated skipper Laurence Irvine and chief engineer George Williamson.
The Wärtsilä
machinery will
be delivered in spring 2016, and the vessel is scheduled to be handed over to the owners in December 2016.