Quad Propeller Propulsion: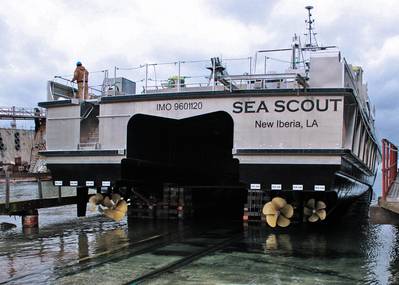 A New Option for Catamaran Workboats
In 2011, Teknicraft Design of New Zealand designed and engineered what is believed to be one of the first quad propeller propulsion systems for a catamaran hull in the U.S. Designed for a newbuild, 134-foot research vessel recently delivered to C & C Technologies, Inc. of Lafayette, LA, the propulsion system had to accommodate many multi-missioned tasks. These will include shallow water hydrographic surveys, deep water offshore surveys and AUV operations.

"It's been about a three or four year story for me," said Scott Croft, Vice President of the Geosciences Division of C & C Technologies, speaking of the design and build process. The concept for the Sea Scout started with the general arrangement drawing of a NOAA catamaran vessel called the Manta. Croft said this was the type of vessel C & C Technologies was looking for. The company chose a catamaran hull because it features more deck space than conventional vessels, allowing C & C Technologies to carry all the survey equipment it requires to serve its customers. To get enough deck space on a conventional monohull would have meant a heavier ship and the need for greater horsepower. In addition, the company wanted fuel efficiency at a variety of speeds including slow surveying at just a few knots and high transit speeds to and from the work site.

"The concept of quad propeller propulsion was part of the conversation early on," Croft said. The initial proposals were for a two engine, two propeller vessel using electric engines run by generators for low speeds and conventional diesels for full speed. However, said Croft, "it was never proved out in concept that it could work for C & C's application."

Croft said they also looked at jet drives at one point, however, he added, "part of the reason we went with propellers is slow speed control." Jet propulsion, he said, would be difficult to control at surveying speed.
Ultimately, All American Marine, partnered with naval architect Teknicraft and won the bid to build and engineer the boat with the unique quad propeller propulsion design. The builder-designer team proceeded to grapple with how to fit the system into a catamaran hull.
Overcoming the Design Challenges
"Getting four propellers in a cat hull was a challenge, but it worked out very well," said de Waal. It also adds to redundancy in the vessel's systems he pointed out. "We placed the engines in a staggered configuration ‒ one in front of, and to the side of, the other. One engine faces aft and the other faces forward. This arrangement allowed generous space around each individual engine for servicing and cleared space for the generator to fit in between the main engines." The vessel design includes two Caterpillar C6.6 170 ekW generators.

"Space constraint was a particular problem," he said, "but the most challenging was to engineer the propellers and more specifically the location of the propellers and the rudder to work in unison, considering that the two propellers on each side had to be very closely spaced from each other below the catamaran demi-hull. This created a situation which required significant design work, including computational fluid dynamic analysis to ensure that the wake from one propeller is superimposed on the other propeller in a positive order. To maximize efficiency, we did not locate the propellers side by side, but staggered them at different longitudinal spacings and height. The system had to be designed for various operational scenarios, whereby all four propellers work together at high transit speed, or where one pair of propellers work while the other pair of engines are shut down in other modes of operation. There were many permutations which needed to be considered and solved."

Another unique aspect of the propulsion system is the use of composite instead of steel shafting between the engine and the gearbox. The gearbox is remotely mounted and not attached to the engine. "The composite shaft is far better in terms of noise reduction and its ability to prevent any whipping (shaft vibration)," said de Waal, which is important in research vessel operations.

"There were many different operational scenarios to cope with in terms of propeller design," he said. Consideration had to be given to the increased drag created by the vessel's long range fuel tanks and the heavy loads that may be carried for some types of operations. Propeller placement also had to take into account retrieval of the AUV. "It's quite tricky to get it back on board especially in rough seas because it gets very close to the stern of the boat," said de Waal. Consequently the propellers also had to be placed well away from the transom.
The Benefits & System Specs
"We designed the vessel to have a very specific two-week mission plan," said Croft. "It has the engine configuration to leave the dock and transit to the work site at top speed." This, he explained, is accomplished with all four engines online. "Then we shut off the two larger engines and run on the smaller engines for fuel economy during the two weeks on the survey site." Finally, all four engines are brought back online to transit back home at full speed. Fast transit gives the company more time on the survey site and allows them to go farther and be more competitive in the bidding process.

"A work site that used to take a day and a half to get to will now take half to three-quarters of a day," said Croft. "It lets us reap the benefits of time and money."

Nic de Waal, Managing Director at Teknicraft Design in Auckland New Zealand was the main architect on the job. "The particular application of this propulsion is for a vessel that needs to operate at large variations in speed," he said. "In this case, the vessel needs to transit to the survey area, which may be 100 nautical miles out to sea, at high speed, but once it arrives and start survey operations, it could be operating at displacement speed or lower for up to 300 hours non-stop. The quad propeller design allows the vessel to operate at maximum efficiency in both modes of operation."

The propulsion package includes two Caterpillar C32 ACERT 1600 bhp engines mated to two ZF 3055A transmissions and two C18 ACERT 553 bhp engines mated to two ZF 550V transmissions. ZF Marine also provided the shafting, bearings and custom propellers. The large engines are connected to 42-inch propellers and smaller engines to 33-inch propellers. The smaller C18 engines also feature shaft brakes. When the vessel arrives on site, the large engines are shut down and the vessel runs on the two smaller power packages that employ trolling valves. The trolling valves combined with SmartCommand's AutoTroll functionality enables the crew to set exact vessel speeds, down to individual shaft rotations, reported ZF Marine.
The Future of Quad Propeller Propulsion
Since its delivery, the Sea Scout has been engaged in survey work updating NOAA nautical charts in the ship shoal area to the southwest of Fourchon, La. "We are interested to see how it will be operating in actual missions and in different types of sea conditions," said de Waal. "We will be keeping close contact with the vessel's operator to gain feedback."

So far, Croft reports that "it's doing very well. With three engines in each hull [counting gensets] the maintenance is a little higher than if you run single engines. Lots of oil and oil filters, but the fuel economy appears to be meeting expectations," he said, although that statistical data was not available in time for this edition of MarineNews. Croft said the Sea Scout has demonstrated a maximum speed of 26 knots (light ship), and, he adds, "We can hit 24 knots with a full load any day of the week."

Cruising speed is about 17 to 20 knots depending on the sea state and load. Croft reports a fuel burn rate on the C18's alone at a speed of five to six knots is about four to five gallons per hour.

Following the completion of the Sea Scout, some other vessel operators have expressed interest in how the quad propeller propulsion system might benefit their fleets. "Other typical examples which would benefit from this design are windfarm support vessels which have to travel out to the windfarm at high speed, but then travel slowly between the wind turbines for many hours while loading and offloading personnel and equipment. Coastal patrol vessels which loiter for many hours, but need the capability of high speed for interception, are also prime candidates for the design," said de Waal. "There is probably no limit on how large a vessel the propulsion design can be applied to, but from a physical space point of view it would probably not be practical in boats smaller than 65-ft."

"I think it is early days yet," said de Waal, "but I expect significant interest once more information on the operation of the vessel becomes public."

All American Marine has reported several inquiries about the design from survey companies around the world. "We have been building quad engine/quad jet catamaran applications for years, but customers are intrigued by the potential of pairing of two different horsepower engines with propeller propulsion," said Joe Hudspeth, Business Development Manager at All American Marine. Hudspeth said other applications for this propulsion system might include whale watching tour operators and high speed ferries that spend a significant amount of time transiting speed restricted harbors or low wake zones.

The design and engineering work performed on this system, as a start, represents a measured advance in propulsion technology in catamaran hulls. Only time will tell what kind of field performance data will be gathered from the Sea Scout, but another propulsion option is a welcome addition to the boat building world, especially given the many different kinds of vessels that now work the coastlines and the (increasingly) varied missions that they are called upon to accomplish. In that scenario, then, quad propeller propulsion might just be the ticket.

(Published in the July 2012 edition of MarineNews - www.marinelink.com)
Raina O Clark is a journalist and communications consultant for the maritime industry. Contact Raina at raina@rainaoclark.com