Almarin Provides Complete Navaids Package for Puerto Brisa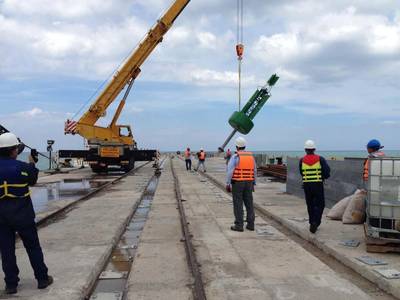 Almarin, a Spanish manufacturer of AtoN, has completed the design and turn‐key supply of aids to navigation for Puerto Brisa (La Guajira, Colombia). The company provided 14 buoys: twelve lateral marks, one safe water and one special mark. All buoys, from its 'Guía' range, were provided with self contained lights equipped with satellite monitoring. The G2200T model was used for the channel dredged at 17m and the G2400T was selected for its additional volume in the open water marks. To help navigate the approach and channel, a sector light was installed on a 30m high tower 1,500m inland, providing precise information to the ship's lateral position with regards to the center of the channel.

The project has a 2,500m long channel that provides access to a turning basin and quay. There is no protection from the natural elements and the dredged channel is less than 250m wide, with regular strong trade winds. The information provided by the navigational aids is critical for safe access to port.

Puerto Brisa is a newly built port located in the northern coast of Colombia, in the municipality of Dibulla (La Guajira). Designed initially as a coal port, it benefits from being a free trade zone and is strategically placed to become one of the most important ports on the Colombian Caribbean coast.