Stena Line Providing Free Internet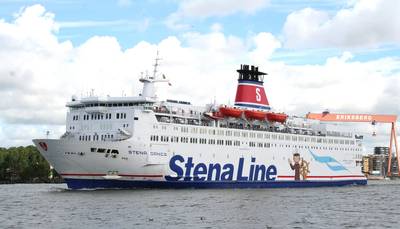 Highly customized least cost routing solution helps leading ferry operator to meet customer expectations for free connectivity.

Stena Line, the established ferry operator in north west Europe is using a customer-specific solution from Marlink to provide improved free Internet connectivity for passengers on seven ferries serving Norwegian, Swedish and Danish routes. The CoastalRoam solution is a specially developed addition to the Marlink Sealink customized VSAT services already in use aboard the ferries. The implementation of CoastalRoam follows a recent user trial, aboard the Stena Danica ferry, on its route between Sweden and Denmark.

Stena Line operates 20 routes with a modern fleet of 38 vessels including fast ferries (Stena HSS), traditional combi-ferries, RoPax ferries for freight and passengers, and RoRo ferries purely for freight in Scandinavia, the North Sea and the Irish Sea. The passenger vessel market is competitive so the ability to differentiate is important, hence Stena Line's commitment to providing a high level of services on board, including Value Added Services such as free Internet connectivity for passengers.

"Our goal is to make any voyage as comfortable and convenient for passengers as we can," explains Calle Sedelius, IT support Specialist, Stena IT. "Internet connectivity is vital in this day and age but provision of free Wi-Fi on board for hundreds of users is very hard to achieve cost-effectively. With CoastalRoam, we are able to confidently offer the service and balance the cost versus the high levels of customer satisfaction we get from it."

CoastalRoam is specifically designed for Stena Line and integrates satellite, 3G and 4G for Norway, Sweden, Poland, Germany and Denmark. Whenever the vessels are within range, the public Internet on board switches automatically to the fastest service available, using a lower cost carrier for free passenger connectivity. 4G is also being implemented on CoastalRoam for another customer in Norway and the system is prepared for other carrier technologies such as Wi-Fi and WiMAX.

"Stena Line aims to continue the CoastalRoam roll out for more routes as fast as we can find telecom providers with good 3G and 4G coverage and competitive prices," adds Raimo Warkki, Commercial Ship Communications & Systems at Stena IT.

"The combination of 3G antennas and Marlink Sealink customized VSAT services on board these seven ferries ensures seamless free connectivity for passengers," says Tom Erling Hansen, Head of Sales North Europe, Marlink.
"Because CoastalRoam enables automatic switching between VSAT and 3G, the system is able to find the fastest and least-cost connectivity available at any time. This makes it cost and time effective for Stena Line to offer a high value customer service for free, which helps them to stay competitive in the market."

Free Internet for passengers is available via 3G and 4G when in range and on VSAT at other times. The Sealink customized VSAT service is used to provide highly reliable and cost-effective connectivity for vessel business critical operations in addition to supporting businesses on board Stena Line vessels.