Baltic Index Rallies as Larger Vessel Rates Surge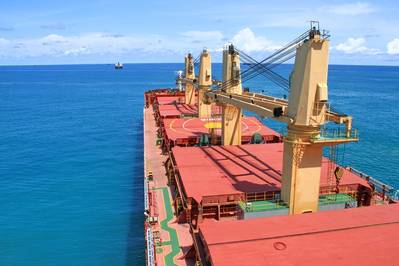 The Baltic Exchange's main sea freight index, tracking rates for ships carrying dry bulk commodities, jumped more than 4 percent on Friday as demand for capesize and panamax vessels remained strong.

The overall index, which factors in rates for capesize, panamax, supramax and handysize shipping vessels, was up 46 points at 1,138 points, its biggest one-day percentage gain in more than five months.
"Momentum is continuing to press the dry bulk market into the owners' favor, driving firmer sentiment in the larger size classes,"
Clarksons Platou Securities analysts
wrote in a note.
"Fixture levels in the Pacific are starting to gain some traction following the brief holiday period earlier this week, while strength remains in the Atlantic market, driven by fresh levels of activity along long-
haul Brazil
/China voyages."

The capesize index gained 176 points, or 9.58 percent, at 2,013 points.

Average daily earnings for capesizes, which typically transport 150,000-tonne cargoes such as iron ore and coal, were at its highest since mid-April, up $1,443 to $16,261.

The panamax index was up 28 points, or 2.28 percent, at 1,256 points.

Average daily earnings for panamaxes, which usually carry coal or grain cargoes of about 60,000 to 70,000 tonnes, increased $224 to $10,056.

Among smaller vessels, the supramax index rose 3 points to 759 points, while the handysize index was flat at 466 points.
(Reporting by Apeksha Nair in Bengaluru)