New RAmparts 3000W Class Tug from Robert Allan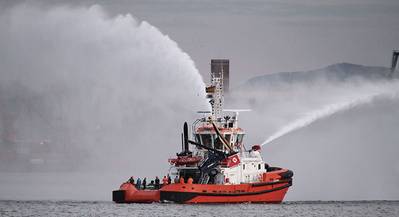 In November 2011, Tug Malta Limited, a subsidiary of Rimorchiatori Riuniti of Genoa, Italy, took delivery of the tug St Elmo, the latest RAmparts 3000W Class tug designed by Robert Allan Ltd. of Vancouver, Canada.
The vessel was built by Astilleros Zamakona of Spain in their Pasaia Shipyard. The tug will be based in Malta and brings Tug Malta's fleet to a total of eight tugs. This additional new vessel further modernizes the fleet after the recent delivery of the Robert Allan Ltd. designed Voith tractor Spinola in July 2009. This RAmparts 3000W design was customized in close collaboration with the Owners who had particular requirements for deck equipment, tank capacities, and accommodation arrangement. The result is a compact, highly versatile design able to take on a wide variety of duties including: ship docking, escorting, ocean towing, fire-fighting, and offshore support roles.
The RAmparts 3000W design features a much wider beam than the standard RAmparts 3000 design. It has a relatively large aft working deck for a 30m tug which can accommodate six 8 foot by 8 foot containers. Astilleros Zamakona performed a fine job constructing the vessel and the quality is evident in the finished product. The tugs are built to RINA Classification requirements, with the notation C, HULL, MACH, Escort Tug, Fire-Fighting Ship 1, AUT-UMS, AUT-Port, "Unrestricted Navigation".
Propulsion consists of a pair of Caterpillar 3516C engines producing 2100 kW at 1600 rpm, each driving a Rolls Royce US 255P30 Fixed Pitch Z-drive through Twin Disc MCD's (model 3000/8 HD) and a straight line shafting system. With this propulsion train, the St Elmo achieved a mean ahead bollard pull of 75 tonnes, a mean astern bollard pull of 71 tonnes, and a free running speed of 12.5 knots. The St Elmo is configured with crew accommodations for 10. The wheelhouse is sized to accommodate all the control functions with maximum visibility for the operator. The main deck accommodates the mess/lounge, the galley, and two officer cabins with shared en-suite WC. The lower accommodation deck features two (2) crew cabins, WC and shower, a laundry, a generous galley store, and a miscellaneous stores room.
On the foredeck is a hydraulically driven, double drum, render-recover escort winch from Ibercisa. The winch is equipped with an adjustable constant tensioning system with load indicating display in the wheelhouse. First layer low speed pull is 80.1 tonnes @ 13.6m/min. and high speed pull on the 7th layer is 12.3 tonnes @ 77m/min. Each drum has a brake holding force of 150 tonnes and each can accommodate 150m x 68mm diameter synthetic rope. Port and starboard on the winch are 430mm diameter warping heads and anchor chain cable lifters.
On the aft deck is a hydraulically driven towing winch also manufactured by Ibercisa. The drum can accommodate 800 m of 56mm diameter steel wire rope and has a brake holding force of 175 tonnes. First layer low speed pull is 52.0 tonnes @ 9m/min. and high speed pull on the top layer is 7.3 tonnes @ 66m/min. The winch also features a robust spooling gear and 530mm diameter horizontal warping head. In the hold is a hydraulically driven spare tow wire storage reel for stowing the spare 800m x 56mm diameter steel wire rope.
The aft deck also features a 100 tonne SWL gob eye, a 4 tonne vertical capstan, a 75 tonne SWL remote quick release tow hook, and a 25 tonne-meter knuckle boom crane. Electrical power is provided by two Caterpillar C6.6 diesel generating sets of 120 ekW @ 1500 RPM and a Deutz harbour genset with 60 ekW @ 1500 RPM. The St Elmo also fitted with an off-ship fire-fighting system meeting class Fire Fighting Ship 1 requirements with water spray. The system was supplied by Fire Fighting Systems Ltd. and comprises two (2) x main engine driven centrifugal pumps type FFS SFP 250x350 driven through Kumera clutches/gearboxes. Each pump has a capacity of 1338 m3/hour. Both monitors deliver 1200 m3/hour of water with one of the monitors also able to deliver 300 m3/hour of foam.
Bow fendering comprises an 800 mm diameter hollow cylindrical fender forward, with a lower run of 600mm x 300mm "W" block fenders. The stern and transom corners are also fitted with 600mm x 300mm "W" block fender and the shear strake is fitted with 300mm hollow "D" fendering. Bow fendering also features a water spray system for lubrication. Life saving equipment includes a 4m rigid inflatable rescue boat with a 25 HP outboard motor and SOLAS compliant launching davit.