RAstar 3900 Svitzer Kilroom Delivered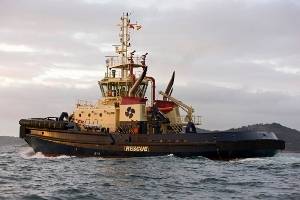 The third in a series of six high-performance Terminal Escort tugs, the Svitzer Kilroom entered service at the Dragon LNG terminal in Milford Haven, U.K. at the end of December, 2008. The Svitzer Kilroom is the largest and most powerful of the RAstar series of tugs being built for this major terminal operation, all to the unique new RAstar designs developed by Robert Allan Ltd., Naval Architects of Vancouver, B.C. This RAstar 3900 Class tug was constructed by Freire Construcciones Navales of Vigo, Spain and completed trials in early December, 2008.
In addition to this 128 ft tug, a series of five smaller sisters, the RAstar 3400 Class tugs are also being built by Freire for this demanding service.
The principal particulars of this RAstar 3900 Class tug are as follows:
• Length Overall - 128 ft
• Beam, Moulded - 20 ft
• Depth, Moulded - 20 ft (above design baseline)
• Maximum operating Draft - 21.5 ft (to underside of drives)