BOEM Receives Lease Requests for HI Floating Wind Projects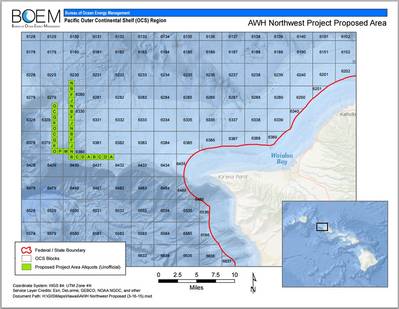 The Bureau of Ocean Energy Management (BOEM) has announced that it has received two unsolicited lease requests for proposed floating wind projects offshore Oahu, Hawaii.
The requests are now available on the BOEM website.
An unsolicited lease request is a submission received by BOEM seeking access to develop an energy resource on federal offshore submerged lands that is not in response to a formal call for interest. Receipt of an unsolicited lease request by BOEM is the earliest step in a process that includes environmental analysis and stakeholder engagement.
The requests were received on January 22, 2015 from AW Hawaii Wing, LLC (AWH) for the Oahu Northwest Project and the Oahu South Project. According to the BOEM website, "each project proposes an offshore wind facility with a capacity of 408 megawatts (MW) of renewable energy generated by 51 floating 8MW wind turbines."
Also included on the BOEM website are notes and presentations from past BOEM Hawaii Intergovernmental Renewable Energy Task Force meetings and relevant information on offshore renewable energy activities.
A BOEM Hawaii Intergovernmental Renewable Energy Task Force meeting will be scheduled in the near future to discuss the lease requests and other topics, BOEM said.