REINTJES to Debut Hybrid Step-up Gearbox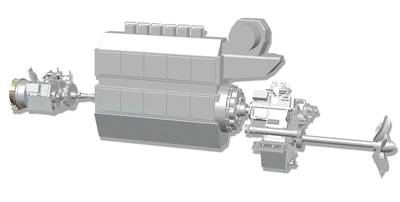 Power train specialist REINTJES will kick off 2017 by demonstrating its new BAE HybriGen Zero system during the Electric & Hybrid Marine World Expo set to take place in Tampa, Fla. from January 16 to 18.
REINTJES, together with its U.S. distributor Karl Senner, LLC, will highlight its recently developed hybrid step-up gearbox for retrofit,offers reduced operating costs, emissions and maintenance costs, according to the manufacturer.
These customer advantages are made possible by a front-engine mounted gearbox combined with a permanent magnetic electric generator up to 300
kWe
. With its high torque this electric motor / generator could be used as a starter to substitute the air-starting system. Furthermore usage of the PTO provides the possibility to turn off the house gen sets during operation.
Designed for BAE HybriGen Zero, the system comes with an electric motor from BAE Systems as well as the gearbox and following components from REINTJES: integrated multi-disc clutch, flexible coupling on input side, bell housing for direct generator mount and shaft for direct engine connection.
In addition to its new step-up gearbox, REINTJES will also expand its existing Hybrid System "RHS" for new buildings in a green manner: battery packs will round off the scope of gearbox, electric motor, frequency converter and remote controls in 2017.