Transas: Increasing ECDIS Reliability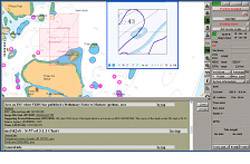 Transas announced that the Transas Navi-Sailor is the first ECDIS in the market compatible with the new Admiralty Information Overlay. The Overlay includes all Temporary and Preliminary Notices to Mariners (T&P NMs) and provides navigationally significant information from UKHO's ENC validation programme.
The overlay is displayed as a single layer on top of the basic ENC and it will be available within the standard Transas Admiralty Data Service (TADS) license, via the Transas Navi-Sailor ECDIS.
UKHO has developed the new Overlay to give seafarers an easy way to view the information that they need in addition to the standard chart, to navigate safely and compliantly. The new Overlay will make passage planning simpler and safer by clearly showing where important Temporary or Preliminary changes may impact a voyage. It will also give seafarers the same consistent picture of the maritime environment on their ECDIS as they have always had with Admiralty paper charts.
As a result, shipping companies will be able to comply more easily with Port State Control (PSC) requirements by providing T&P MNs where they do not currently exist in ENC coverage today. It will also help simplify their transition to digital navigation.
Soren Andersen, Marine Superintendent, SQE at Nordic Tankers Marine A/S says: "We are using the Admiralty Information Overlay as an integral element of our ECDIS-based navigation within the Transas Navi-Sailor ECDIS. Used as a navigational and planning aid as part of the company's wider move to adopt ECDIS navigation, the Overlay is making passage planning and the task of keeping track of the latest ENC updates much easier. It will also make it easier for our crews to demonstrate compliance during PSC inspections. Overall, it has proved to be another important element in our efforts to continually improve the safety and efficiency of navigation."
Michael Cauter, Deputy Chief Executive with responsibility for developing new Admiralty products and services said "The marine environment is constantly changing. The Admiralty Information Overlay is needed because many nations don't yet include important temporary or preliminary notifications of those changes in their weekly updates, and even when they are included, they can be difficult to identify within the ENC. The Admiralty Information Overlay provides this information on top of the ENC and displays it clearly and consistently so the mariner can instantly see the impact of changes on a route and can take appropriate action."