Horizon Signs Remaining Options for NYC Ferry Builds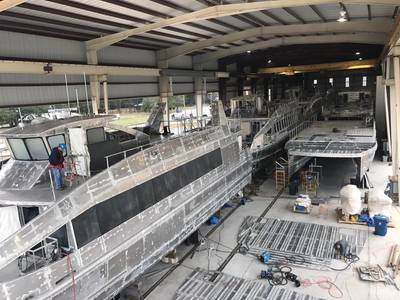 Horizon Shipbuilding, Inc. said it has been awarded five additional citywide ferries by HNY Ferry Fleet, LLC. The award brings the total ferries Horizon is building to 13 and completes the initial 19 boat citywide ferry contract. Two of the five vessels will be delivered as part of the 2017 package, with the remaining three scheduled for delivery in 2018.
Horizon has 10 hulls under production, and the vessels are currently on schedule, with the first boat slated to be delivered in the spring of this year.
Designed by Incat Crowther, the option ferries are of the River class design and have an overall length of 85' 4" with a 26' 3" beam. The all-aluminum vessels will achieve a speed of 25 knots.