Remote Survey is the New End-Game
More than remote witnessing, more than remote data analysis, remote survey techniques are now going to aid the shift to full vessel autonomy.

The technology that enables a robot to safely navigate an environment it has no prior knowledge of is called Simultaneous Localization and Mapping (SLAM). "It is the key to autonomy for any aspiring can-do inspection robot." That's according to ScoutDI, a participant in the REDHUS project led by DNV which is developing a prototype inspection drone.
SLAM is not a specific, copyrighted piece of technology. It is the collective name for the computational problem of constructing or updating a map of an unknown environment using technology, such as LIDAR and lasers, while at the same time keeping track of your location within it. Typically in flight a drone prioritizes object detection and avoidance; afterwards it undertakes the computation-intensive work of developing a fully detailed map. But the better it gets at doing this in flight, the better it is at operating in spaces it has not visited before. Then all the pilot needs to do is supervise an inspection by pointing to locations in a 3D point cloud.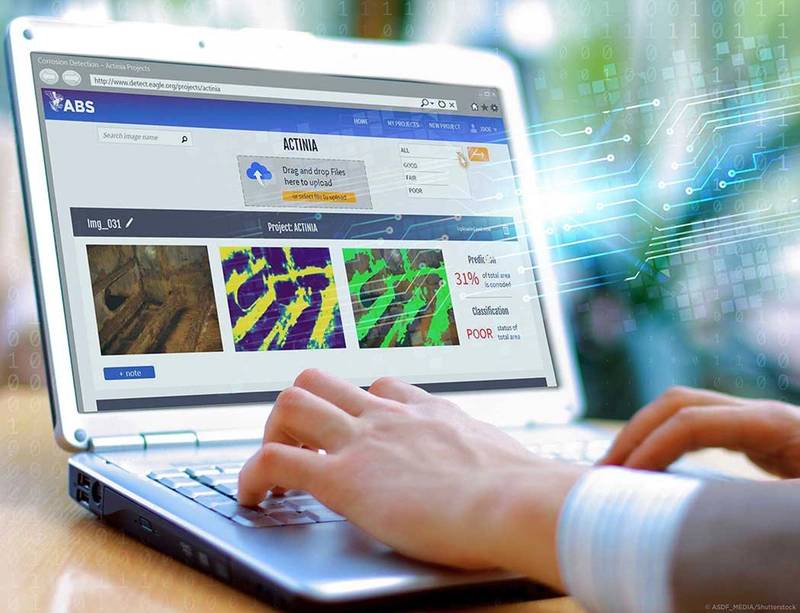 ABS recently completed a pilot project applying AI to the detection of corrosion. Image courtesy ABS
ScoutDI has performed initial tests of its drone's SLAM capabilities in the cargo tank of the Altera shuttle tanker Beothuk Spirit where it achieved with-centimeter accuracy in flight. It will ultimately be paired with DNV's corrosion, crack and deformation algorithms. The corrosion and crack detection algorithms are already at a level where they are comparable to human surveyors when detecting defects in images. A drone that can take pictures of developing conditions from the same distance and with the same lighting helps the process.
Other class societies are advancing corrosion artificial intelligence (AI) including ABS which recently completed a pilot project applying AI to the detection of corrosion and coating breakdown in partnership with Google Cloud and SoftServe.
China Classification Society is also developing systems for corrosion and for gathering hull thickness measurements so that a drone or robotic crawler can transmit it to a surveyor for real-time assessment. Xiang Linhao, an expert at the CCS Science & Technology Innovation and Test Center, says remote surveys are moving beyond "remote witness" mode to being a remote survey based on data, but this involves agreement between owner and class on aspects such as data acquisition methods, interface protocols and exchange formats. Once established, high speed, low latency and high-volume data transmission will enable the shift from traditional surveys to condition-based surveys and continuous status monitoring.
The hardware required for remote surveys should be technically applicable to existing and older ships, says Masuaki Urata, General manager, Public Relations Team at ClassNK. However, it is likely that newbuildings will contribute to the further expansion of remote surveys. A shipping company's decision to accept the CAPEX and OPEX for increased communication and other necessary items depends on various factors beyond remote survey functionality. The use of remote surveys also requires ship-side preparation and crew member proficiency.
Tihomir Kezic, Digital Solution & Transformation Director, Bureau Veritas (BV), says: "The transition from reactive and time-based maintenance to condition-based and predictive maintenance will bring tremendous benefits to machinery maintenance activities, with increased reliability and an upward trend in ROI for vessel owners."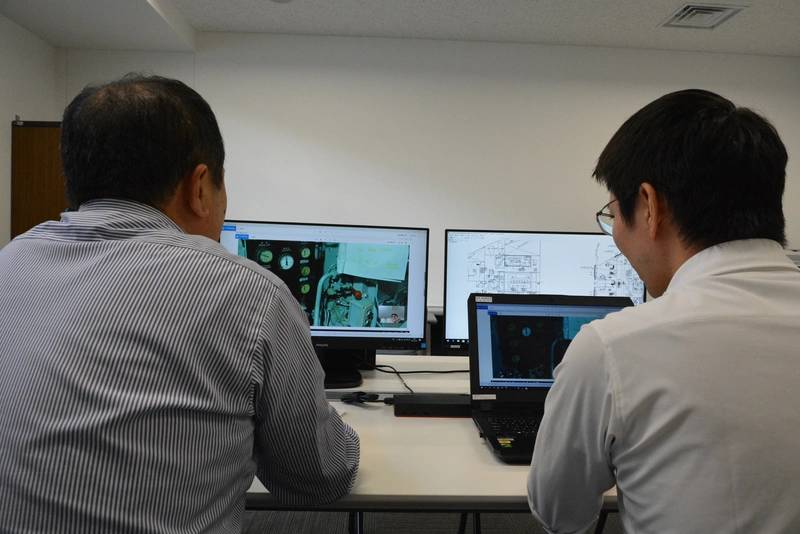 Remote survey. Source CLassNKNew digital capabilities will also enable "infant failures" of machinery components to be spotted before they escalate and lead to catastrophic technical problems. Data sharing can also negate the need for opening machines for audit inspections.Moving forward, digital twins of in-service ships will become more commonplace. The aim is to virtually reconstruct a 3D model of an existing ship using images collected by drones during surveys, together with scanning and photogrammetric technologies. This would allow for hotspots and other vulnerable areas to be recorded throughout the ship's inspection history using 3D visuals.
"3D models are important to fully understand the multiple phenomenon that can affect the condition of the ship's hull and machinery," says Kezic. "For example, they can help in carrying out Operational Deflection Shape (ODS) to determine the vibration patterns and dominant frequencies responsible for structural and machinery issues."
Joseph Morelos, Maritime AI Applications Innovation Leader at Lloyd's Register (LR), notes that using AI in advanced monitoring such as anomaly detection, fault detection and isolation, and diagnostics and prognostics can increase operational safety and productivity by preventing failures and collateral damage. "Class should make sure that the AI systems employed by the owners are effective, dependable and safe. Once these systems are proven they can be scaled to improve the operations, reliability and safety of the fleet, resulting in a common win for owners, OEMs, insurers, class and regulators."
To support this, LR has implemented assurance frameworks for maritime AI systems. In 2022, it announced a collaboration with the Alan Turing Institute which provides fast and cost-effective independent assurance and testing of digital technology, using resources and expertise from both organizations. Streamlining the testing process for digital and AI-enabled maritime technology will rapidly speed up digitalization in the industry, incentivizing safe practice and improving affordability by reducing competitive advantage risks, says Morelos.
Korean Register (KR) is researching condition based maintenance technology for main propulsion engines, gensets, pumps, purifiers, piping, electric propulsion systems (lithium-ion batteries), and cargo control systems (high-voltage cargo switchboards). Gathering reliable data is a challenge, so KR has developed various simulated failure mode scenarios and has produced data on land-based test beds.
Michela Schenone, Marine Digital Solutions Manager at RINA, says interest in remote survey is growing, particularly with owners of newbuildings. The quality of data is also improving, and RINA is developing tools such as electronic log books for owners that will enable surveyors to be prepared onshore before a physical visit to a vessel. This is changing the way classification services are being provided. "It's a change in paradigm, because rather than waiting for a call, we are now proactively looking after the vessels to ensure the quality of our services," she says.
Schenone sees a further paradigm shift. "We are now setting the basis for autonomous vessels – vessels that are fully digitalized and fully remotely controlled." Class societies will be in the loop, she says, remotely and continuously monitoring vital equipment to ensure safe operations.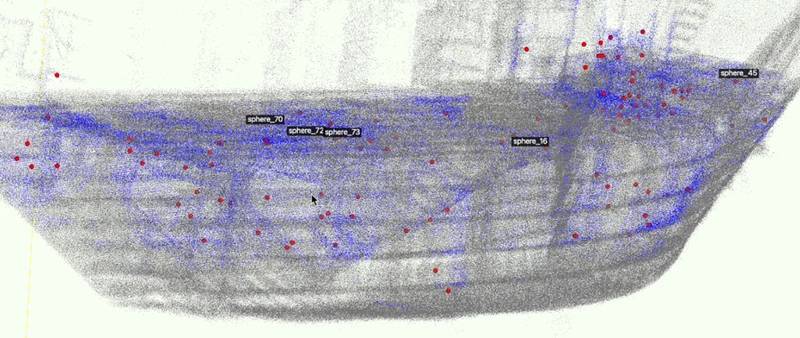 Drones and AI are helping BV identify vulnerable areas. Source BV