Hydrex: Underwater Stern Tube Seal Replacement in Mississippi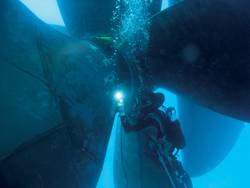 To stop oil from leaking from the stern tube seal assembly of a general cargo vessel, a Hydrex diver-technician team was mobilized to perform permanent repairs on the vessel during its scheduled stop in Gulfport, Miss., last month.
The team together with the diving equipment was mobilized from the Hydrex office in Tampa to set up a diving station at the berthing location. By the time all necessary preparations had been made, the team had been reinforced with additional technicians from the headquarters in Antwerp and was ready to assist the vessel as soon as it arrived at Gulfport.
The operation started with a thorough underwater inspection of the stern tube seal assembly, followed by the removal of the rope guard. This revealed a protection ring which was removed to create more space for the renewal of the seals. Next the split ring was also disconnected and brought to the surface to be cleaned. A consequent inspection of the running surface of the stern tube seals showed that it was severely worn and no longer functional. After a discussion with all parties involved, it was decided to remove the spacer ring and create a new running area.
The Hydrex flexible mobdock was installed around the stern tube seal assembly and a dry underwater environment was created in which the diver-technicians could remove the damaged seals one by one and replace them with new ones. After these were bonded the entire assembly was put together again and weardown measurements were carried out with positive results. The flexible mobdock was then removed. Finally the protection ring and the rope guard were reinstalled, concluding the repair.
During the first inspection of the stern tube seal assembly it had become evident that the propeller blades of the vessel were damaged. The leading edges of all four blades were therefore grinded by the Hydrex divers to bring the propeller's efficiency back to its optimal condition.